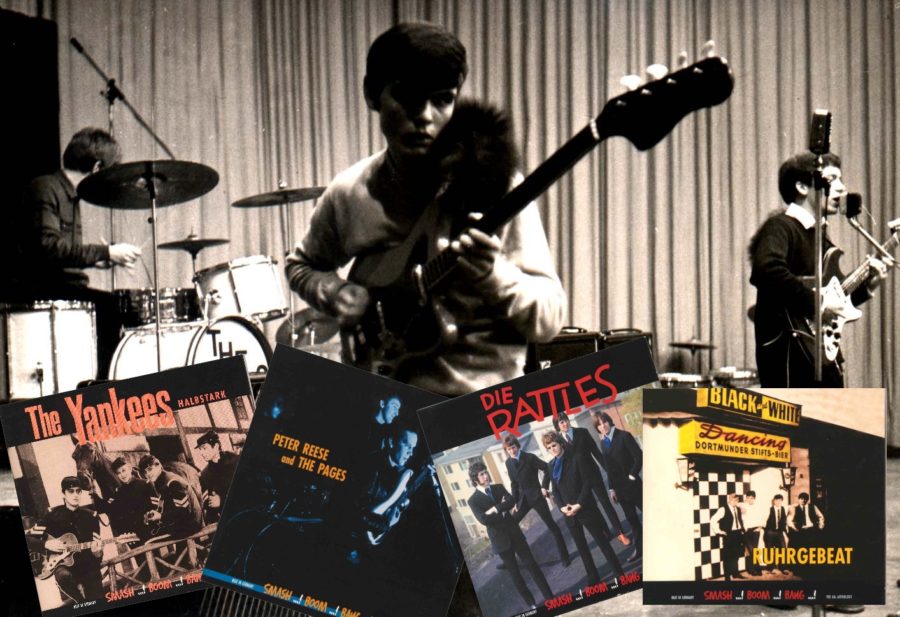 Bevor wir zu Smash…! Boom…! Bang…! kommen, noch vier andere von mir begleitete CDs
MIKE ROGER & THE MACHINE GUNS
Damals schrieb ich:
Die Linernotes sind geschrieben, 66 Seiten sind es geworden, das Layout hat Sven Uhrmann abgeschlossen, so kann diese CD bald in die Produktion gehen. Mike Roger und seine Machine Guns decken ein anderes Kapitel deutscher Nachkriegsmusik ab als die üblichen von mir betreuten Beatveröffentlichungen. Hier rollen eher Fats Domino und Louis Prima! Die Recherche über die deutsche Musikszene (erst später Rockmusikszene) nach dem 2. Weltkrieg, und ich beginne da im Jahre 1946, hat Interessantes, Abenteuerliches und Faszinierendes hervorgebracht. Viele Bilder, die illustrieren, was der Text beschreibt, sind von Sven Uhrmann perfekt plaziert worden. Eine ganz andere Seite der Musik in Deutschland nach 1945 wird hier erstmals beleuchtet. Es hat nicht nur Spaß gemacht, es ist auch ein wunderbares, historisches Dokument entstanden, auf das ich stolz bin.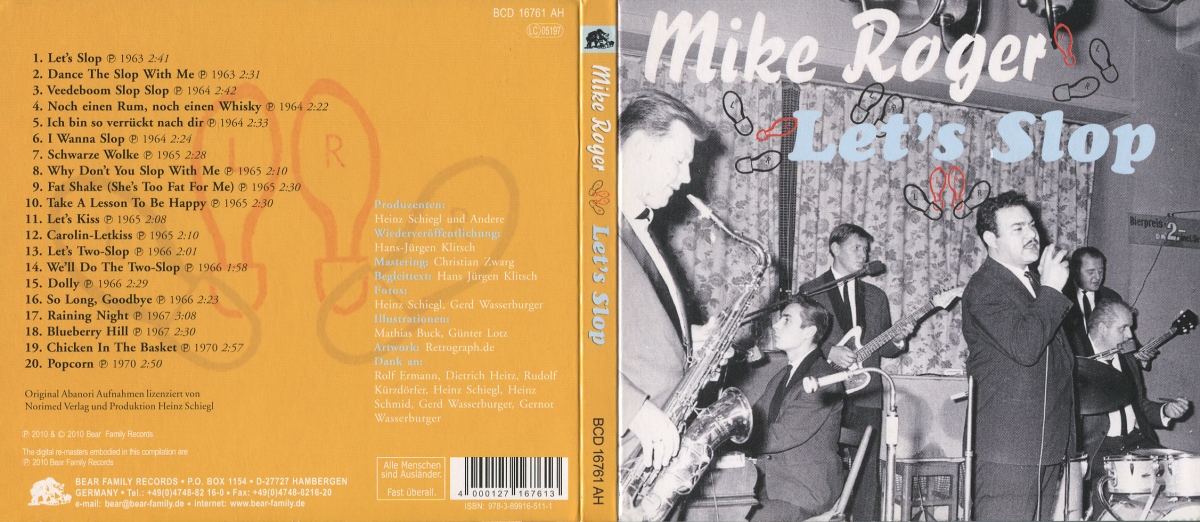 BEAT-CD bei Bear Family Records
THE GISHA BROTHERS
Vor den Sommerferien 2009 ist bei Bear Family Records die CD "The Gisha Brothers" erschienen. Sie deckt deren interessantestes und beatigstes Material ab. Diese Hanauer Gruppe, die eine der ersten war, die auf dem deutschen CBS Label Platten veröffentlichte, besticht durch ihre hohen musikalischen Standard… und wenn man Englisch sang, dann klang es auch so. Ich habe die Linernotes für das 31seitige Booklet geschrieben, und dafür habe ich die alten Kämpen noch einmal interviewt. Eine interessante Zusammenstellung, die gut durchhörbar ist und ein paar wirkliche Knüller beinhaltet. www.bear-family.de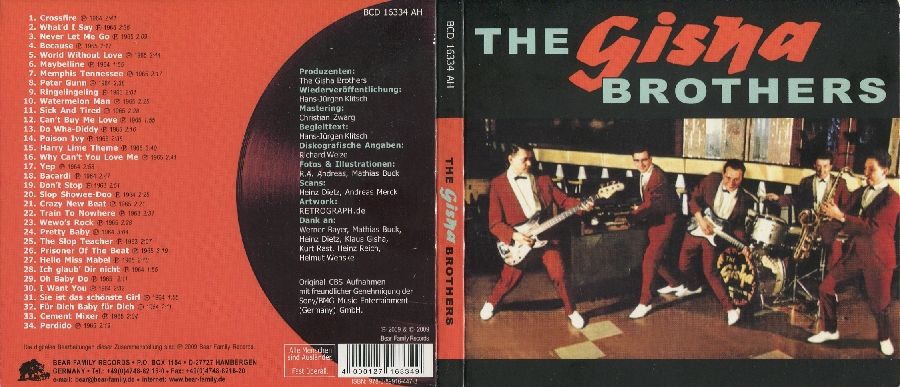 Mai 2011:
Ich habe mir bei Bear Family eine von mir zusammengestellte und mit Linernotes versehene Mike Roger & The Machine Guns CD bestellt. Ja, ich musste mir diese bestellen, weil Bear Family mir nur jeweils zwei (yes, two) Belegexemplare gestattete. Allerdings bekomme ich den sogenannten "Künstlerrabatt". Diese Mike Roger CD habe ich an Jonas Porst geschickt, ein Urgestein der Nürnberger Szene. Der wird sich sicherlich freuen, denn für diese Linernotes habe ich hart und sehr lange gearbeitet.
Bear Family hat meine Bestellung ("Wir möchten Sie bitten, bei allen zukünftigen Bestellungen Ihre KUNDEN-NUMMER anzugeben.") zügig bearbeitet. Auch die Rechnung  ließ nicht lange auf sich warten. Allerdings berechnet mir Bear Family (Rechnung Nr. 11147/11) 6,- Euro plus MwSt Porto. S-e-c-h-s Euro plus für eine CD!!!!! Na bitte!! Haben die den Schuss nicht gehört!?
Ich denke, das kann nur ein Irrtum sein, weil bei Internetbestellung nur €4,- Porto anfällt (immer noch €2,55 über den nominellen Portokosten). So schreibe ich den Bären mit der Bitte um Korrektur. Am 24.5. bekomme ich von der Mitarbeiterin Wohlers eine e-Mail mit folgendem Text:
"Leider muss ich Ihnen mitteilen, dass unsere Rechnung Nr. 11147/11 vom 18.05.2011 korrekt ist. Es liegt kein Irrtum vor. Bitte begleichen Sie unsere Rechnung in voller Höhe."
Da ist die CD nun teurer als im Laden. Die Bären sind immer wieder für eine Überraschung gut, nicht wahr?
Wenn ich nun rekapituliere, für welch ein erbärmliches Honorar ich dem Latzhosen-Bären, den ich als egozentrisch und cholerisch kennengelernt habe, die "Smash…! Boom…! Bang…!" (was für ein dämlicher Titel für die Serie!! Absolutely misleading! Wahrscheinlich vom besserwisserischen Bernd Matheja ins Ohr von Weize geblasen!) CDs gestrickt habe, dann muss ich sagen: Ich wäre besser Putzen gegangen – das wäre lukrativer gewesen. Allerdings: witzig war es schon, mit den beiden Meistern "zusammen"zuarbeiten. Weize, chef de cuisine, der keine Skrupel kannte, seinen Namen unter von mir erarbeitete Dinge zu setzen – Matheja, Lektor exceptionelle, der einen Schrupper nicht von einem Schrubber unterscheiden konnte. Der eine hatte von 60s-Beat überhaupt keine Ahnung (Latzhose), der andere meinte Ahnung zu haben.

Da kriegt man dann Texte mit der Randbemerkung "muss ich mir diese Scheiße eigentlich antun?" zurück. Und das von jemandem, der den Textteil zu dem Buch "Those were the Days" (was für ein lahmer Titel für eine attraktive Fotosammlung!!) ziemlich in den Sand setzt und zeigt, dass er nur meint, alles begriffen zu haben. Ich verkneife mir hier mal Zitate aus diesem Buch. Matheja hat auch die Compi "Die Hamburg Szene" zusammengestellt – meines Ermessens die schwächste aller "Smash…! Boom…! Bang…!"-CDs. Rar ist nicht gleichzusetzen mit gut!

Honoriert wurde ich mit 153.- Euro pro booklet… welche bis zu 88 Seiten dick waren. Ich habe einen Stundenlohn von ca. 1,50 errechnet. Meine Portokosten wurden mir ab der 10. CD erstattet. Für die letzten CDs gab es allerding 300,- Euro. Dann sagt mir der Latzhosenwürdenträger am Telefon über seinen Layouter für die "Smash…! Boom…! Bang…!"-CD-Serie: "Der arbeitet für'n Appel und 'n Ei. Der kriegt nur 750 Euro." Ich arbeite die 5fache Zeit für die Linernotes und muss dann auch noch die diskographischen Daten erarbeiten, die Weize oft unter seinem eigenen Namen abdruckt, und die Fotos besorgen (welche er mir versprochen hat, für mein Archv als hochaufgelöste Scans zurückzuschicken, bekommen habe ich ausgedruckte thumbnails). Als ich das, viel zu spät, als Methode erkannt hatte, habe ich die Scans selber gemacht. Nach dem "Appel und 'n Ei"-Telefonat habe ich ihm den Krempel hingeschmissen, mit launigen Worten. Die Lords-CDs waren schon fertig. Er hat mir geantwortet, ich müsse zum Psychiater.
Das fiel mir noch ein: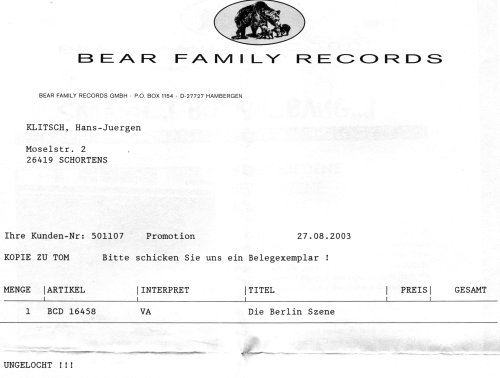 Zwei Reissues von The Lords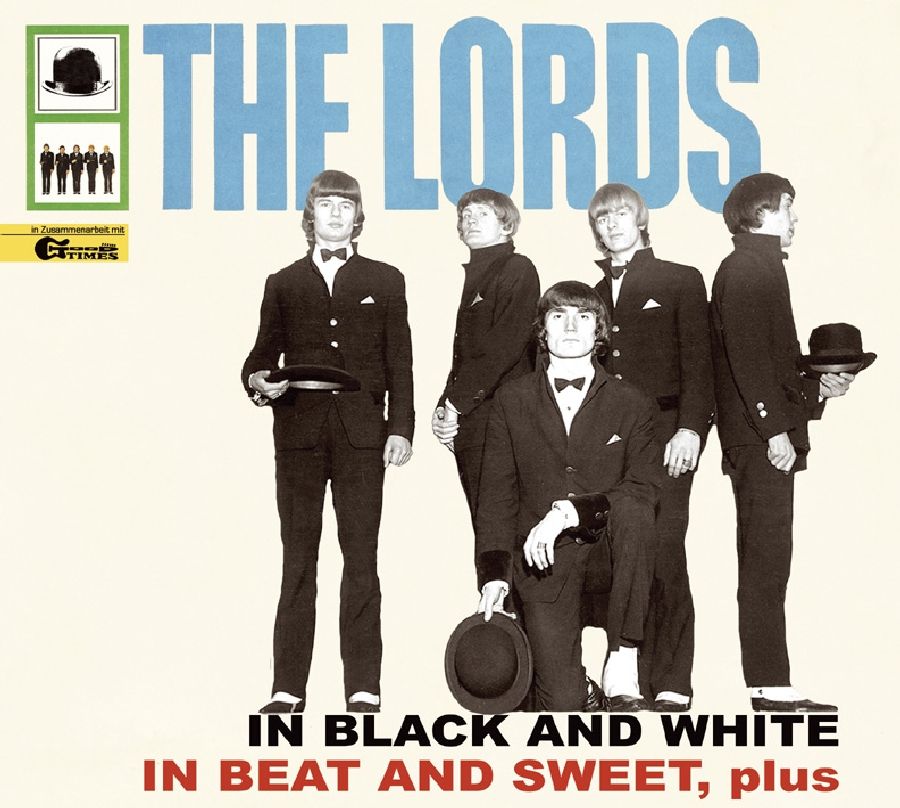 Ich habe jetzt eine Weile überlegt, ob ich diese CDs noch auf meine homepage stellen soll. Aber da mir die Linernotes ganz gut gelungen sind und ich wieder viele interessante Facetten aus dem Leben und der Karriere der Lords zutage gefördert habe, sollte man der Lords zuliebe doch auf sie hinweisen.
Beide CDs beinhalten unterschiedliche Linernotes von mir, in booklets von je ca. 50 Seiten zusammengefasst, so dass zusammen ein noch runderes Bild entsteht. Während der Text zu In Black And White sich eher auf den Beginn der Karriere der Lords konzentriert, geht der zu Some Folks mehr auf die späteren Jahre ein.
Bei BCD 17127 AH gibt es 4 Monomix-Versionen zusätzlich plus einer live-Aufnahme von Poor Boy. Das gab noch einmal Raum, auf die sprachlichen Defizite der Lords einzugehen, und es konnte nun endlich gerade gerückt werden, dass der berühmte 'learned'-Fehler im Text von Poor Boy eben keiner ist. Aber das was, wie und warum muss man schon nachlesen. Leider ist hier die 1968er Re-Issue-Version der LP verwendet worden und nicht das 1965er Original. So fehlt also Poison Ivy, und Shakin' All Over taucht fälschlicher Weise auf.
Auf BCD 17125 AH (ja, die spätere LP hat die frühere Katalognummer bei Bear Family bekommen) gibt es ebenfalls vier Monomix-Version zusätzlich, die wieder allesamt von den veröffentlichten Singles stammen. Die Soundqualität hat gegenüber der Original-LP wohl gewonnen, so klingt es bei mir zu Hause jedenfalls, und Lord Gandy bestätigt dies. Interessant sind die  Linernotes zu beiden LPs, weil nicht nur die beiden bislang eher wenig befragten Rainer Petry und Max Donath ausführlich zu Wort kommen, sondern auch deren Produzent Wolfgang Hirschmann. Auch das Foto auf dem Cover ist nun endlich seitenrichtig. Was allerdings Wilfried Zinzow unter dem Banner "Wiederveröffentlichung" mit der ganzen Sache zu tun hat, weiß ich nicht.  Sein Name taucht ja bei allen von mir begleiteten Bear-Family-Veröffentlichungen in irgendeiner Form auf, doch habe ich niemals irgendeinen Input von ihm registriert. Wahrscheinlich meinte der Latzhosenbär, mit ein wenig 'namedropping' kann man 4 CDs mehr verkaufen. Aber dann müsste es doch ein Name mit mehr Relevanz sein, oder?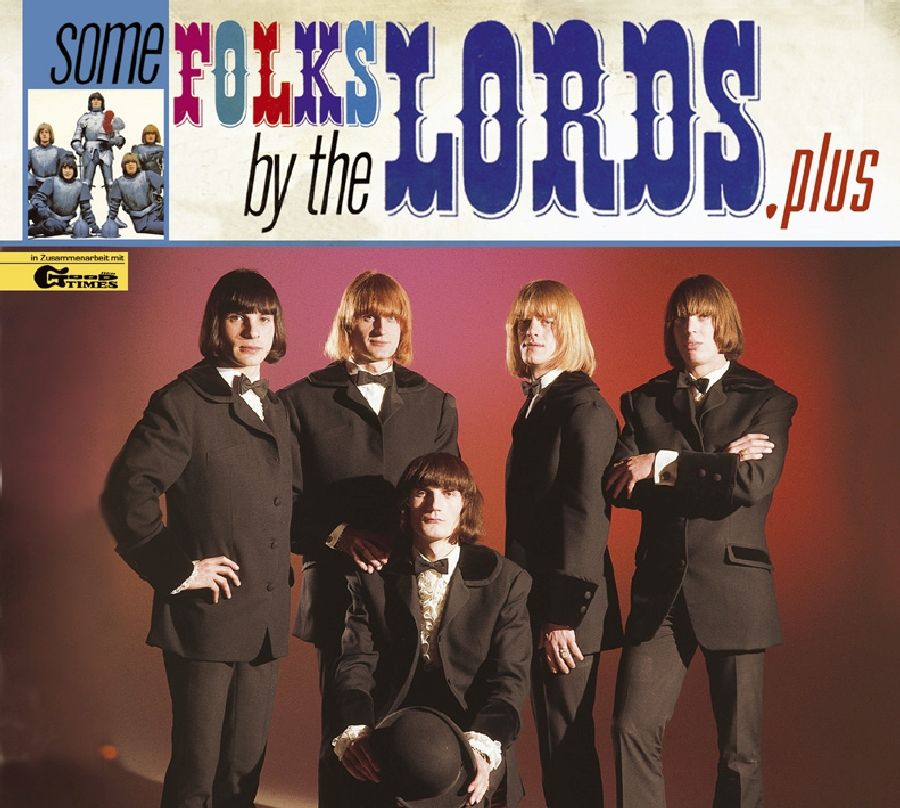 Korrektur von Rainer Petry 1
Smash…! Boom…! Bang…!
The 60s Beat Anthology
Mit der 30-CD-Serie "Smash…! Boom…! Bang…! Beat in Germany – The 60s Anthology" liegt zum ersten Mal die Geschichte der deutschen Beatmusik der Mittsechziger Jahre umfassend aufgearbeitet vor. In der vorgelegten Komplexität bleiben keine Wünsche offen, denn das gesamte Spektrum des musikalischen Schaffens deutscher Beatkapellen kann der Hörer nun endlich genießen. Dabei kommen nicht allein die bekannten Spitzenbands zum Zuge, sondern auch die vielen Bands aus der zweiten Liga und jene, die es nur regional zu Ansehen gebracht haben. Musikalisch bewegen wir uns zwischen gelungenen Eigenkompositionen und souveränen Interpretationen der Songs ihrer Vorbilder. So wird deutlich, dass die deutschen Bands mehr zu bieten hatten, als Note für Note das Material zu kopieren, welches ihnen die englischen und amerikanischen Idole geliefert hatten. Allerdings erreichen sie niemals den Standard, den englische Bands zu bieten haben, das verhindern deutsche Produzenten und Manager.
Im Vergleich zu dem, was die niederländischen Bands in den 60er Jahren zu bieten hatten, verblassen unsere Jungs zusätzlich. Wenn man in Rechnung stellt, dass die Niederlande deutlich weniger Einwohner hatten, schlägt das Pendel noch ein wenig weiter zu deren Gunsten aus. Deutschland hat nicht diese Dichte an innovativen, auf völlig eigenständigem Terrain operierenden Band hinterlassen, keine Bands wie Johnny Kendall and The Heralds, The Outsiders, Tony Ronald en de Kroners, The Zipps, The Motions, Q65, ZZ en de Maskers, The Shoes, The Golden Earrings und The RO-D-YS. Für mich sind die holländischen Bands deutlich interessanter als die deutschen. Und da habe ich die Indobands und die niederländischen Rock 'n' Roll-Bands noch nicht eingerechnet. Bei den holländischen Bands konnte man sich darauf verlassen, daß sie die englischen Songtexte, auch die ihrer Eigenkompositionen, auf die Reihe bringen würden. Die deutschen Band waren mit Fantasieenglisch zufrieden. Man höre sich die CD von The Rollicks an – da sind die Texte doch eher an Dada orientiert als an der englischen Sprache.

Ich habe für alle dies "Smash…! Boom…! Bang…!"-CDs  die Linernotes geschrieben, und dabei kamen gut 1.200 Booklet-Seiten zusammen. Ich habe mich bemüht, noch einmal neue Interviewpartner zu finden, und so konnten einige der in dem Buch Shakin' All Over noch fehlenden Bands nun dokumentiert werden. Durch die neuen Gesprächspartner wurden aber auch Ungenauigkeiten aus Shakin' All Over und Fehler behoben. In den weitaus meisten Fällen habe ich auch die Titelauswahl dieser CDs bestimmt. Wenn Ihnen da etwas missfällt, dann muss die Kritik an mich gehen.
Es war mir ein Anliegen, die musikalische Qualität der einzelnen CDs auf hohem Niveau zu halten, deshalb wurde für die Zusammenstellung tief in den Schatztruhen gewühlt. In den überwiegenden Fällen wurden die Originalbänder aufwendig recherchiert und einem auf Authentizität ausgerichteten Remastering unterworfen. Es war niemals mein Anliegen, allein die Seltenheit einer Produktion zum Maßstab zu erheben, denn die Erfolglosigkeit einer Veröffentlichung resultierte ja nicht selten aus einer musikalischen Minderwertigkeit. (NB: Leider hat man mich bei der Yankees-CD und bei der CD "Die Hamburg Szene" nicht gefragt, denn die Livetracks der Yankees hätte ich nicht abgenickt, ebenso wenig wie Fatima und andere Scheußlichkeiten von Achim Reichel oder die Gurken einer Band namens Exodus aus Hamburg.)
Die Zusammenstellungen wurden von mir unter dem Gesichtspunkt der musikalischen Qualität und die Kopplungen mit der Prämisse der durchgängigen Hörbarkeit vorgenommen. Natürlich haben wir es uns nicht nehmen lassen, unveröffentlichte Stücke und alternative Versionen zu präsentieren, wenn wir sie entdeckten, allerdings nur, wenn sie musikalisch dem angestrebten Niveau entsprachen. So sind denn eine Vielzahl von unbekannten Perlen auf diesen Compilations zu finden, die auch den eingefleischten Kenner und Sammler der deutschen Beatmusik vor Freude in die Hände klatschen lassen.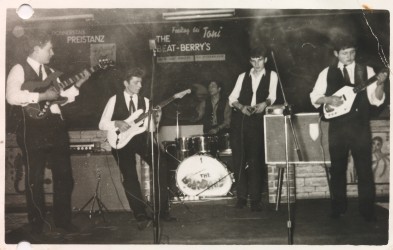 Abgerundet werden alle CDs dieser Serie durch die überaus aufwendig gemachten Booklets mit Bandgeschichten, Anekdoten, Szenereports und Beschreibung des Zeitgeistes, so dass diese Serie auch als Sozialdokument einer Zeit, in der alles im Umbruch war, einen eigenen Status erhält. Ich habe dafür gesorgt, daß die Linernotes mit feinem und seltenem Bildmaterial aus der Beatepoche illustriert werden konnten. Der Umfang und die Qualität der Booklets übertreffen den üblichen Rahmen meilenweit. Mir war es ein Anliegen, Hör-, Seh- und Lesevergnügen zu vereinen, und so kann der Käufer nicht nur die Historie detailliert nachlesen, sondern auch den Beatschuppen entdecken, in den er damals vielleicht selber gegangen ist. Mit den Augen auf dem Bild, den Gedanken im Text und der Musik im Ohr erlebt er die Bands noch einmal live auf der Bühne, so wie es damals war.
Ein paar Worte zu den letzten fünf der in dieser Serie veröffentlichten CDs: "Beat im Norden" und "Beat im Süden" dokumentieren all jene Bands, die entweder aus der Provinz stammten oder nicht genug Aufnahmen hinterließen, um eine eigene CD zu ermöglichen. "Ruhrgebeat" und "Beat im Westen" tauchen tief in die überschaubaren Musikszenen der nordrhein-westfälischen Gebiete um die Ruhr und den Köln-Düsseldorfer Raum ein. Da präsentieren sich die Beatschuppen in ihrer Vielfalt und die lokalen Bands in ihrer Zahllosigkeit, auch wenn sie keine Tondokumente hinterlassen haben. Viele Musiker, die nicht damit gerechnet haben, noch einmal namentlich erwähnt zu werden, können sich wiederentdecken. "Beat Battle" schließlich portraitiert den in Deutschland heiß geliebten Kapellenwettstreit anhand zweier Beatfestivals. Von den Organisatoren über die teilnehmenden Bands bis hin zur Bandmaschine, auf der das musikalische Ereignis aufgezeichnet wurde, haben wir alles akribisch aufgezeigt, so dass es der Nachwelt erhalten bleibt. Und über allem schwebt der Klang der Beatgitarren, damit die deutsche Beatszene endlich den Stellenwert erhält, der ihr zusteht.
Hier eine alle Smash…! Boom…! Bang…! CDs.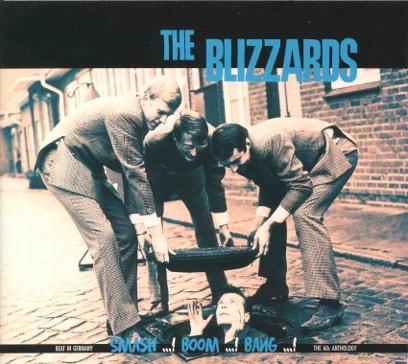 THE BLIZZARDS
CD Digipac mit 32-seitigem Booklet
BCD 16467 AR
DIE BLIZZARDS: Isabel – Zu schoen – I'm Your Guy (single version) – 108 Pounds Of Heartache – Grausame Stadt – Wie gewonnen, so zerronnen – Ohne dich – Ich sag ihr adieu – Hab keine Lust, heut aufzustehn – Exodus – I'm Your Guy – Mr. Tambourine Man – Be Mine – I Will Love You – Stranger In Town – Blue Star – I'm Alive – Mr. Goofy – Faithless Sleep – Dr. Jekyll – Walk By My Side – Blizzard – You Really Got Me – Eiszapfen – Be Mine (no duet vocals) – 108 Pounds Of Heartache (choral with sax) – 108 Pounds Of Heartache (unison with sax) – Stupidity – Beat, Beat, Beat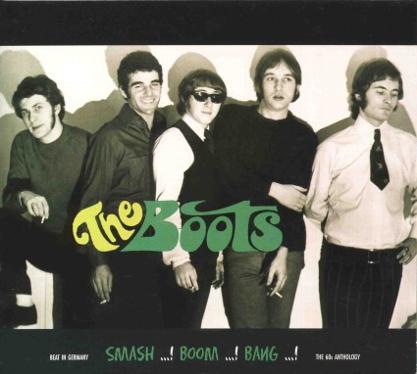 THE BOOTS
CD Digipac mit 48-seitigem Booklet
BCD 16468 AR
Gloria – Dimples – But You Never Do It, Babe – Walkin' In The Sand (Remember) – In The Midnight Hour – Watch Your Step – Another Tear Falls – Gaby – Jump, Back Baby – Mama Keep Your Big Mouth Shut – She's About A Mover – It Ain't Necessarily So – What You Gonna Do About It – Got Love If You Want It – Boogie Children – Enchanted Sea – Comin' Home – When I Loved Her – No Part Of It – It's A Man's Man's Man's World – I Don't Want To Go On Without You – Alexander – Aber ich blieb kuehl – One More Time – I Wish You Would – Spoonful (Crazy Enough For Me) – Wreck My Life – Gaby (demo / karaoke version )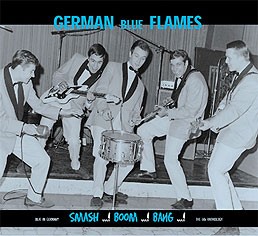 THE GERMAN BLUE FLAMES
CD Digipac mit 44-seitigem Booklet
BCD 16455 AR
Rhythm And Blues Johnny – Everybody – Lonely Avenue – Let Me Go Lover – I Feel So Sad – Ready Teddy – That's All About Love – Ecstacy – Good Bye – When The Flames – Please Don't Say That It's Over Now – Sunbeams At The Sky – Baby, warte auf mich (That's All About Love) – Good Bye (German) – Mein Herz ist noch frei (Sunbeams At The Sky) – Lovely Lady (Lovely Lovely) – Sha-la-la-la-lee (& Rikki Barnes) – Rama Lama (& Rikki Barnes) – Olé Bardot – Along Comes Mary – Rhythm And Blues And Johnny (German) – Good Bye – Besser geht's mit…COKE KEN HOWARD: … so was laeuft frei rum (I'm On The Up) – Stueck fuer Stueck – Miss Ashwood (Cab Driver) – No, Sweetheart, No HARTMUT KULKA & PHIL CANTLEY: Laura # – Go To Marocco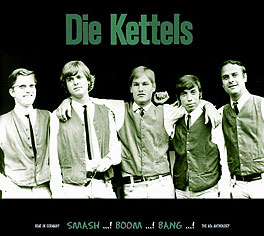 THE KETTLES
CD Digipac mit 24-seitigem Booklet
BCD 16462 AR
DIE KETTLES: Poison Ivy – Gingerbread – Night Train – Venus – Turn Around – Manana Pasado Manana – Drummer Man – Ma Ma Mabelline – Beautiful Dreamer – Last Night – Old Folks At Home – Blue Suede Shoes – Be Bop A Lula – See You Later, Alligator HELMUT & DIE KETTLES: Du kleines Haus am Swanee River – Manana, Amigo, Manana DIE KETTLES: Lady Madonna – (Sitting On) The Dock Of The Bay – Mighty Quinn – Mustang Sally – Believe It Or Not, I Love You – Respect – Fa-Fa-Fa-Fa-Fa – Judy In Disguise – Gimme Little Sign – Bonnie And Clyde – I Want No Love From Second Hand – You've Got What It Takes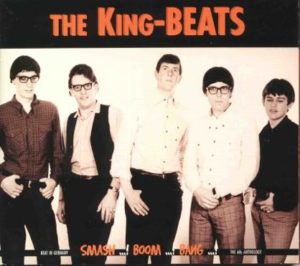 THE KING-BEATS
CD Digipac mit 24-seitigem Booklet
BCD 16473 AR
THE KING-BEATS: Archibald II – Hear What I Say – Too Much Language Business – Same Way, Every Day – I Know You Need Me – Make Up Your Mind MALEPARTUS II: Lisbeth – Ich glaab', die hole mich ab, ha-haaa! AD-LIBS: Too Much Monkey Business – I'm Alive – We've Got To Get Out Of This Place – It's Not Unusual – Ticket To Ride – It's My Life – Louie, Louie AD-LIBS & ANTONIUS: Route 66 AD-LIBS: You've Got To Hide Your Love Away – You've Got Your Troubles AD-LIBS & ANTONIUS: Oh Carol AD-LIBS: Sorrow – Talkin' 'Bout You – It's In Her Kiss – I've Got That Feeling – Walkin' The Dog – Goodbye My Love RICHARD BROTHERS: I Just Wanna Make Love To You – Slow Down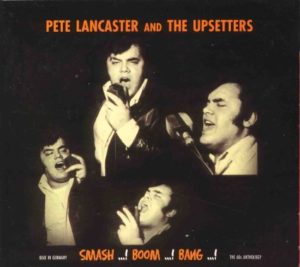 PETE LANCASTER & THE UPSETTERS
CD Digipac mit 24-seitigem Booklet
BCD 16454 AR
PETE LANCESTER & THE UPSETTERS: Stupidity – Trouble In Mind – Midnight Hour Blues – I Like It Like That – Searchin' For Love – Teardrops – One Of These Days/Stubborn Kind Of Fellow – Monkey Time – One Night – You Are My Sunshine – Stagger Lee – Baby, Baby, Baby – Mary Ann – Nicht zu fassen – Gib deinem Boy mehr Zucker – Baby bleib bei mir – Alles ist Alright – Zehnmal am Tag – Lass mich rein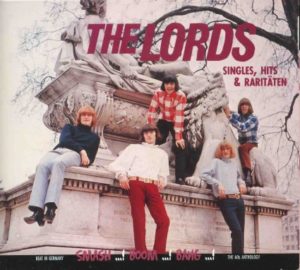 THE LORDS
Singles, Hits & Raritäten
CD Digipac mit 56-seitigem Booklet
BCD 16452 AR
Hey, Baby, lass den andern – Tobacco Road – Shakin' All Over – Seven Daffodils – Poor Boy – Poison Ivy – Que Sera – Boom Boom – Greensleeves – Sing Hallelujah – What They Gonna Do – Don't Mince Matter – Have A Drink On Me – Good Side Of June – Gypsy Boy – John Brown's Body – Gloryland – Rain Dreams – And At Night – Fire – Good Time Music – Greensleeves (Italian) – Gloryland (Italian) – People World – Four O'Clock In New York – Three-Five-Zero-Zero – England – The World Is Falling Down – Five Or Six (Pepsi commercial)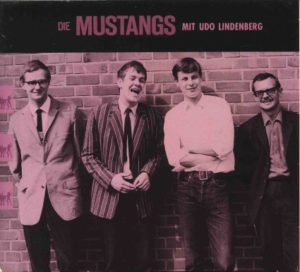 THE MUSTANGS
CD Digipac mit 24-seitigem Booklet
BCD 16461 AR
Make Up Your Mind – What's Gonna Be Tomorrow – Hot Road – That's My Baby – Dynamite – Matchbox – Why Should I Cry Anymore – Kom Van Dat Dak Af – Greyhould – Please, Mr. Postman – Loneliness – South Street – Oh My Baby – Einsamkeit NICO & DIE MUSTANGS: Mrs. Brown – Das Glueck und die Liebe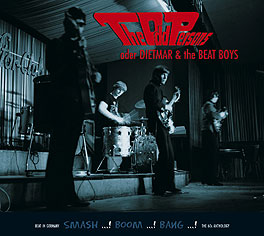 THE ODD PERSONS
CD Digipac mit 24-seitigem Booklet
BCD 16463 AR
Aqui en mi nube (Get Off Of My Cloud) – Ojos negros (Dark Eyes) – Que familia más original (Shame And Scandal In The Family) – Odd's Boogie – Watcha Gonna Do 'Bout It – Little Red Rooster – Hand Jive – I'm Crying – Somebody Help Me – Zing Went The Strings Of My Heart – Spanish Harlem – I'll Go Crazy – Girl – Land Of 1000 Dances – Sha-La La-La Lee – Daydream – Here Comes The Night – Hey Girl – You've Got To Hide Your Love Away – Lucille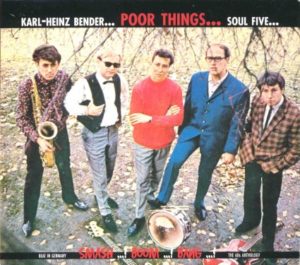 THE POOR THINGS / KARL-HEINZ BENDER / SOUL FIVE
CD Digipac mit 40-seitigem Booklet
BCD 16459 AR
POOR THINGS: Mustang Sally – She's Mine – It's A Vow – Club A Go Go – Don't You See – We Trust In A Better Way Of Life – Kansas City – Move On Now – I'm So Lonesome – Don't Leave Me Alone – Send Me Some Lovin' – Well, My Milmo – Danny Boy – Don't Say I'm Sorry – I'm So Lonesome (single version) – Don't Say I'm Sorry (single version) SOUL FIVE: Soul Dance Party – It's All Over KARL-HEINZ BENDER: Oh Jenny – Oh, Oh Du – Hey Angelina – Afrika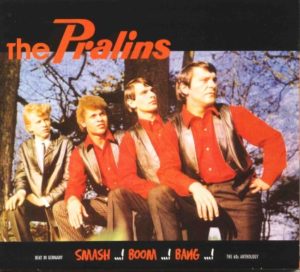 THE PRALINS
CD Digipac mit 28-seitigem Booklet
BCD 16480 AR
Stupidity – Naggin' Woman – Behave Yourself – You Must Have Been A Beautiful Baby – Ecstacy – Poison Ivy – I'm A King Bee – On Broadway – Bread And Butter Man – Unchain My Heart – Carol – Nadine – Beautiful Delilah – All My Sorrows – Around And Around – Dizzy Miss Lizzy – Autumn Breeze – I'm Down – Jumpin' Run – Everybody Loves A Lover – High Heel Sneakers – Talkin' 'bout You – Little Red Rooster – Why Don't You Cry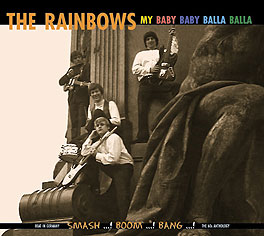 THE RAINBOWS
My Baby Balla Balla
CD Digipac mit 44-seitigem Booklet
BCD 16477 AR
My Baby Baby Balla Balla – Ju Ju Hand – Kommando Pimperle – Ich weine dir nicht nach – Rotkarierte Petersilie – Tubon DIE RAINBOWS: It Must Be Love – Say Won't You Be My Girl – Don't Cry – Four Boys In Music – A Walk To Paris – I Hold You Tight – Wanted – I'm Singing Quietly – Beautiful Delilah – Too Much Monkey Business – Donna – Walking The Dog – I'll Not Be Without You – Sweet Little Sixteen – Bald Headed Woman – Carol – Bad Bad Baby – Mr. Milkman – You Must've Seen – I Sure Know A Lot About Love – It's Too Late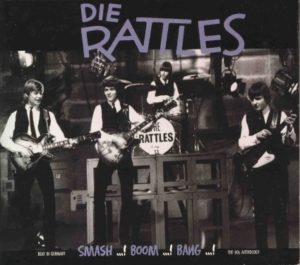 THE RATTLES
Die Singles A&B, 1963-1965
CD Digipac mit 36-seitigem Booklet
BCD 16451 AR
Mashed Potatoes – Hello – The Stomp – Zip a die doo dah – Sticks And Stones – Bye, Bye Johnny – Go To Him – Cryin', Waitin', Hopin' – Baby That Is Rock 'n' Roll – Everybody Loves A Lover – Tell Me What Can I Do – Sunbeam At The Sky – What Do You Want With My Baby – My Gal Is Red Hot – Bye Bye Johnny – Sweet Little Sixteen – Memphis Tennessee – Twist And Shout – Geh' zu ihm – Bye, Bye Baby – Do Wah Diddy Diddy – Betty Jean – Shame, Shame, Shame – Someone Who Is Just Like You – Spanish Harlem – Bo Diddley – La La La – There Goes My Heart Again – Lass' die Leute doch reden (& JOHNNY HALLYDAY) – It's Monkeytime (& JOHNNY HALLYDAY)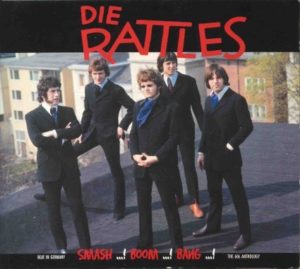 THE RATTLES
Die Singles A&B, 1965-1969
CD Digipac mit 60-seitigem Booklet
BCD 16456 AR
Come On And Sing – Candy To Me – (Stopping In) Las Vegas – Lean Jean 17 – Sha-La-La-La-Lee – Old McDonald – Love Of My Life – Say Alright – It Is Love – Hey Sally – Cauliflower – I Will Always Stay Your Friend – Raindrop – I'll Catch Her – After Tea – Thank You – Fought The Lord – Lady Angeline – Mr. … – … Keep Your Hands Off My Sister – Geraldine – The Witch – Lady Love – Ice On Fire – (Stopping In) Las Vegas (alternative take) – Sense Of Life – Dream – Yellow Cab Man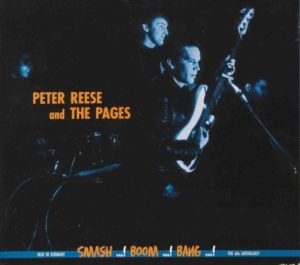 PETER REESE & THE PAGES
CD Digipac mit 28-seitigem Booklet
BCD 16453 AR
Hippy Hippy Shake – Whole Lotta Shakin' Going On – San Antonio Rose – Tallahassee Lassie – Slop Walk – Sweet Little Rock'n' Roller – I'm Talkin' About You – Hully Gully Lullaby – Pages Rhythm – Twist And Shout – Jungle Beat – Goodnight, Irene – Bye Bye Johnny – Louie, Louie – Schau Schau – Yum Yum – Shakin' All Over – That's The Blue Beat – Lazy Lady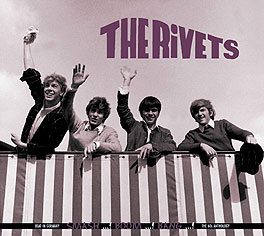 THE RIVETS
CD Digipac mit 24-seitigem Booklet
BCD 16469 AR
Now Decide – Lucille – Die Welt Ist Voll Musik – Komm – Barbara Ann – L-O-V-E – Yum Yum – Wade In The Water – She Hardly Ever Calls Me Honey – The Lion Sleeps Tonight – Make Up My Mind – It's A Long Way To Tipperary – Watch The World – Temptation – Tommy – The Girl I Love – Only You – Time For Love – The Loving Game – I Got A Feeling – Um Um Um Um Um – Secret Love – Moonlight Talk – The Land Of Make Believe – Kinky Boots And Leather Clothes – The Walls Are High – Girl – Wade In The Water (unissued 1) – Wade In The Water (unissued 2) – Secret Love  (2)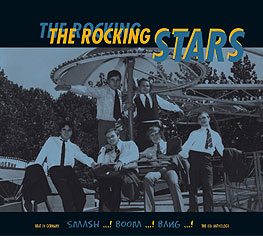 THE ROCKING STARS
CD Digipac mit 28-seitigem Booklet
BCD 16472 AR
Tina Darling (Shake Rattle And Roll) – Jailhouse Rock – Flames Of Love – Sealed With A Kiss – Tell The Truth – Walking The Dog – In My Room – Shake Dance – Peter Gunn – Mean Woman Blues – Don't Ask Me To Be Friends – Blues Stay Away From Me – Temptation – It's The End – Lonely Girl – Ol' Homer Sermon – Java Guitar – Monday, Monday – You've Got Something – Lonely Girl – Lucky Guitar – Tiger – Hey Baby – Kiss Me / Kuess mich – Lonely Blue Boy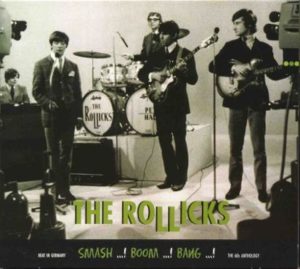 THE ROLLICKS
CD Digipac mit 40-seitigem Booklet
BCD 16478 AR
Let's Go Go Go – Das Totenschiff – Addicted To Love – Girls Were On My Door – Things Of Love – Walking In The Sand THE SHOUTERS: Shakin' All Over – Shimmy Shimmy – Summertime – Walking The Dog – Drums In Thunder – Walkin' – Little By Little – Baby Doll – Skinny Minnie – Can I Get A Witness THE THUNDERBEATS: Dora / (Donna) – The House Of The Rising Sun DIE TORNADOS: Da Doo Ron Ron THE BATS: Gib mir Liebe (Money) THE ROLLICKS: Rosalie Come Back To Me – You Better Move On – Louie Louie – Sweet Little Rock 'n' Roller – I'll Never Get Over You – Tom Dooley – Umba Latta GITTA WALTHER & THE THUNDERBEATS: Hundert hübsche Männer – Honeyboy, ich mach mir Sorgen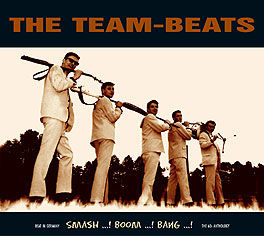 THE TEAM-BEATS
CD Digipac mit 28-seitigem Booklet
BCD 16466 AR
It's Liverpool Time (live overdub) – Tell Me What I Say (live overdub) – Red Sails In The Sunset (live overdub) – Shake Baby Shake (live oberdub) – Rip It Up (live oberdub) – Roll Over Beethoven (live overdub) – Skinny Minnie Shake (live oberdub) – Memphis, Tennessee (live overdub) – Riverside Shake (live overdub) – Saints And Team-Beats (live overdub) – Sie liebt dich (live overdub) – Susie – San Antonio Rose – Rip It Up – Shake, Baby Shake – Riverside Shake – Samoa-Holiday – Roll Over Beethoven – Skinny Minnie ROBBY DANFIELD & THE TEAM-BEATS: U-La-La (Big Romance) – Mean Woman Blues – Bye Bye Love  Live im Club 99, 1963:  THE TEAM-BEATS: Baby Stay With Me – Willow-Hop – I'm Walkin'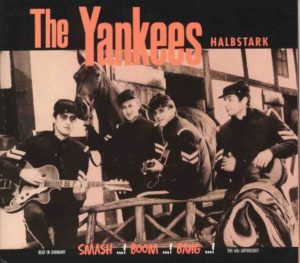 THE YANKEES
Halbstark
CD Digipac mit 36-seitigem Booklet
BCD 16457 AR
Halbstark – La-La-La-La-La-La (Du bist es immer) – I Was Born To Love You – Play Gypsy – So ein Luder – Liebelei – In der roten Strassenbahn – Mein Schlaraffenland – Es ist aus und vorbei – Tequila – Halbstark – Poison Ivy – I Should Have Known Better – I Was Born To Love You – Night Train – Very Last Day – Sunny Afternoon – A Hard Day's Night – Amapola – I Can Tell – Mashed Potatoes – Sugar And Spice – Mexico – Bergvagabunden sind wir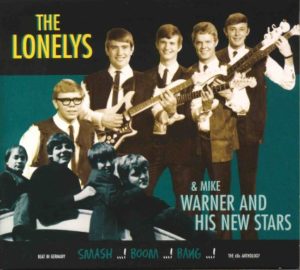 MIKE WARNER & THE NEW STARS / THE LONELYS
CD Digipac mit 52-seitigem Booklet
BCD 16471 AR
THE LONELYS: At The Hop – Oh Lonesome Me – Don't Ha Ha – Kansas City – Keep A Knockin' – Bring It On Home To Me – The Queen – Fannie Mae – I Won't Forget You – Please Mr. Postman – Donna – Galakta City (Baja) – Hello – Oho-Aha-Oh-Yeah
MIKE WARNER & THE NEW STARS: Someday Baby – That's Old Fashioned – I Wonder If I Care As Much – Here I Go Again – Since We Fell In Love – Claudette – Where Did Our Love Go – Don't Gimme No Lip Child – So Sad – Do You Really Love Me Too – I Walk The Line – Walkin' The Dog
VERSCHIEDENE / Various Artists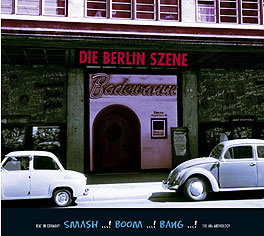 Die Berlin Szene
CD Digipac mit 80-seitigem Booklet
BCD 16458 AR
PHANTOMS: Night Train PHANTOMS & JÜRGEN BRINKMANN: Shakin' All Over MAGICS: Sweet For My Sweets EDGAR AND THE BREATHLESS: Look At Silly Joe GLOOMY MOON SINGERS: Keep On Dancing MAGICS: Junge Leute brauchen Liebe VIKINKS: I Got That Feeling HOUND DOGS: Bye Bye Johnny REBEL GUYS: Ain't Got No Money THE SOUNDS: Poison Ivy VANGUARDS: Long Tall Shorty TEAM BEATS BERLIN: Doctor Feel Good VANGUARDS: We've Gotta Get Out Of This Place DRAFI DEUTSCHER & THE MAGICS: Come On, Let's Go HOUND DOGS: 1965 Intro der SF-Beat 'Schlager Toto' Abstimmung – Gloria BATMEN: Batman GLOOMEYS: Swing Low DRAFI DEUTSCHER: I'm In Love With An Angel FRANK ZANDER & GLOOMY MOON SINGERS: El Matador DIDI & THE ABC BOYS: Greenback Dollar DAVE GORDON & THE REBEL GUYS: Call Me MAGICS: Wake Up ONES: Lady Greengrass – Love Of Mine TWANGY GANG: Girl's Love TEAM BEATS BERLIN: Ring Dang Doo VIKINKS: Gloria TEAM BEATS BERLIN: Bring It On Home (live) – Medley: Pretty Thing / Bo Diddley / Brown-Eyed Handsome Man (live)
So sah der letzte Entwurf für die Berlin-Szene-Kopplung aus: VA BerlinKopplung1.6.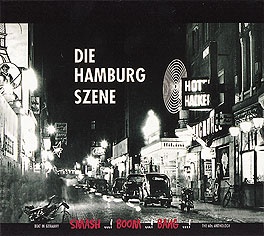 Die Hamburg Szene
CD Digipac mit 60-seitigem Booklet
BCD 16460 AR
GERMAN BONDS: We Are Out Of Sight – Sing Hallelujah THE BATS: Shake, Shake, Slop, Slop COPS & ROBBERS: Harlem Shuffle – It Hurts Me So ACHIM REICHEL: Trag' es wie ein Mann (Take It Like A Man) – Heute und morgen THE FIXX: Land Of 1000 Dances – Looking For The Right Girl THE ALL: I Don't Go Back – You Don't Have To Say THE FACES: Cry, Cry, Cry – Stay Away GERMAN BONDS: Sonata Facile – So Mystifying THE JOHNNIE CLIFF FIVE: Skinny Minnie – Red Sails In The Sunset BOUWMAN BROTHERS: Bella Rosa (Poison Ivy) – Traeume, Schaeume OUR GANG: Take This Hammer – Tell Her COPS & ROBBERS: Soukie Soukie – Evil GERMAN BONDS: Birthday Is Today – Skinny Eleonore (Tenge Tu Amor) – Remember ACHIM REICHEL: Fatima – Ich warte auf Antwort THE EXODUS: Hungaria – Gypsy Dance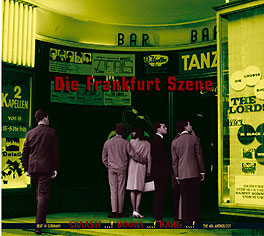 Die Frankfurt Szene
CD Digipac mit 52-seitigem Booklet
BCD 16465 AR
TAIFUNS: Äppelwoi Slop RAVES: Everything's Alright – Night Time Is The Right Time SKINS: L.S.D. DETAILS: I Cried All Night – What Shall I Do SKINS: What To Do  ADAM & EVE mit HUSH: Feelin' SPOTLIGHTS: Jack The Ripper – I'm Free RANGERS: Black Is Black TREMBLES: Here Comes My Baby – Baby Stop That Playin' Around RANGERS: Lovers Of The World Unite SAD SACK SECT: Number One – The World For Us ADAM & EVE: They Can Look At Us CHEATS: Valentine – That's My Day ROCK READY & THE RAVES: Jimmy Jimmy Coco Nut TAIFUNS: Go, Go HEIKO HENSS: Mona – Und der Himmel weint (You Were  On My Mind) TONACS: Darlin' KRAUTS: I Can Understand – You Came Along – Ally Ally Oxen Free – A Lot Of Love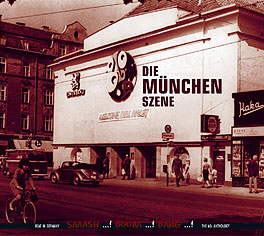 Die München Szene
CD Digipac mit 44-seitigem Booklet
BCD 16470 AR
PAUL WÜRGES: Sleep Walk PROGRESSIVE BEAT BOYS: We Got Somethin' Goin' – Sad September PETER & DIE MIDNIGHTS: Midnight-Twist (without live effects) – Lucille (without live effects) TESS TEIGES & THE DYNAMITS: Ballhouse Slop – Kissin' King CLIFF JACKSON & STAR-BEATERS: Wooly Bully / Hippy Hippy Shake / Please Please Me DYNAMITS: A Hard Day's Night – Skinny Minnie BEATSTONES: I'm A Boy THANES: Things We Said To Day – Shimmy Shimmy FELLOWS & THE MAJORS: Du bist blind – Überall gibt's schöne Mädchen THANES: Good Golly Miss Molly – Shake Baby Shake BLACKBERRIES: Ich seh Black (LOS BRAVOS: Black Is Black) – Liebe oder Luege DELEGATES: She's The One – Monkey Monkey CRICKETS FIVE: Summer Wine – Don't Fight It LOVERS: World – 2000 Light Years From Home – Daydream Believer BLACKBERRIES: Vier Uhr Fünfunddreissig (Hi Ho Silver Lining) THANES: Reelin' And Rockin' – Sticks And Stones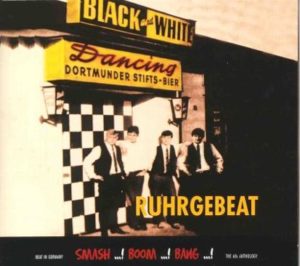 Die Ruhrgebiet-Szene
CD Digipac mit 88-seitigem Booklet
BCD 16474 AR
THE RICKETS: Rickets Special GERRY AND HIS COMETS: Shakin' All Over (SIR JOHN &) THE STARFIGHTERS: Lost John JAILBIRDS: Jenny Jenny THE STARLETS: If You Need Me FREDERIC AND THE RANGERS: Take This Hammer THE GERMAN BLUE FLAMES: That's What I Want GISELA AND THE SPIRITS: The Summer Is Over THE CREW: It Ain't Necessarily So ANDY NEVISON: Indiano GERMAN OUTLAWS: I Can't Control Myself THE NEWCOMERS: Nowhere Man THE CREW: Don't Let Me Be Misunderstood GERMAN OUTLAWS: Paint It Black THE GERMAN BLUE FLAMES: From Home DIE 4 MUSKETIERE: I'm Waiting For You DAKOTAS: In The Midnight Hour THE JOKES: Land Of Thousand Dances ANDY NEVISON: What's Your Name FREDERIC AND THE RANGERS: I'm On The Outside – All I Want THE NEWCOMERS: Have You Seen My Baby Comin' DUKES: The Dentist CRASH: Familiar Trip DUKES: That's My Life THE KENTS: Morgen kann die Welt schon vernichtet sein LIONEL AND THE TIREDS: Fairy Boy STARFIGHTERS: I Like Trouble RAG DOLLS: Yakety Yak JOHNNY MOHR AND THE YELLOW STONES: Gelbe Steine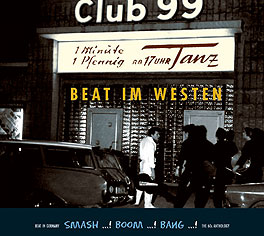 Beat im Westen
CD Digipac mit 64-seitigem Booklet
BCD 16475 AR
THE LONE STARS: Work Song SCOTTY & THE SILVER STRINGS: Shake The Last Dance With Me MIKE RAT & THE RUNAWAYS: Um Um Um Um Um THE TONY HENDRIK FIVE: Big Boss Man THE CAVE DWELLERS: I Need You THE PLAYBOYS: Cristina G66: Feel Alright  THE BEAT-STONES: What? Am I In Love? THE SKYRIDERS: Fight For Life SCRAPERS: Smoke Pije, je elsjedej MIKE RAT & THE RUNAWAYS: Poison Ivy THE KENTUCKYS: Old Hangman Is Dead – Cadillac – Cadillac (2) THE SUBJECTS: German Measles THE BEAT-STONES: Ibn Dibn Dab (Die (den) quatsch ich an) THE SILHOUETTES: Cryin' Over You – Here I Go Again THE CAVE DWELLERS: Working On A Tsching-Tscheng THE TONY HENDRIK FIVE: I've Said My Say – Got A Worried Mind THE SKYRIDERS: Stay Here MIKE RAT & THE RUNAWAYS: If You Take A Chance THE KENTUCKYS: Stupid Generation THE SCRAPERS: I Know It's True G66: Sunday Evening THE SUBJECTS: My Love Is True THE LONE STARS: So allein (She'd Rather Be With Me) – Sunday For Tea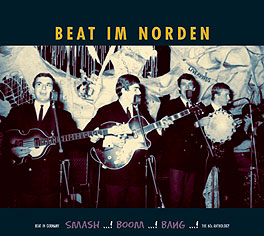 Beat im Norden
CD Digipac mit 76-seitigem Booklet
BCD 16476 AR
THE BLACK DEVILS: I Ain't Got You THE BATS: Can I Get A Witness THE BEAT-BERRYS: Around And Around LES COPAINS: I'm So Lonely THE BLACK DEVILS: She Said Yeah THE PHANTOM BROTHERS: Shoot Your Shut THE MUSHROAMS: Dely THE GERMANS: Please Don't Leave Me THE TONICS: That's How THE RAGS: I Cry For Love PERCY & THE GAOLBIRDS: I Will Do LES COPAINS: Give Your Love To Me THE BATS: Got A Girl THE PHANTOM BROTHERS: Chicago THE HIGH SPIRITS: Give Me Love THE CARS: Just Wait THE BLACK STARS: Ci fermiamo due minuti PERCY & THE GAOLBIRDS: How To Catch A Girl THE CHOSEN FEW: Blackbird Face THE JETS: I'm Gonna Change My Life THE RAGS: Bad Times THE LOOSERS: Understand THE RAGS: Take Your Time THE CLASSIX: Summer In The City THE BLACK STARS: Scrivo sui muri THE RAGS: Mr. Cool THE CHICAGO SECT: Chain Reaction THE MGs: Black Cat THE MARQUEE SECT: Barefootin' COPS & ROBBERS: On Love THE MARK MARTIN GROUP: An Extraordinary Girl
Beat im Süden
CD Digipac mit 68-seitigem Booklet
BCD 16479 AR
THE GISHA BROTHERS: Maybelline THE SIX TORNADOS: Little Wallflower THE GISHA BROTHERS: Crazy New Beat FRANK FARIAN & DIE SCHATTEN: Ein Herz aus Stein (Heart Of Stone) THE BEATCHERS: Then She Kissed Me FRANK FARIAN & DIE SCHATTEN: Mickey's Monkey THE JAGUARS: I Go Crazy THE CRY'N STRINGS: Bu Bu Bi Du THE GISHA BROTHERS: Memphis Tennessee THE VAMPIRES: New Love THE JAGUARS: Unchained Melody THE COUNTS: I've No Money JONAH & THE WHALES: It's Great JUST MARRIED: Man Of Snow IMPROVED SOUND LIMITED: It Is You JUST MARRIED: Just Married THE SHEIKS: Roll Me Over THE SPEEDERS: No More Waiting LITTLE LORD & THE SHATTERS: I Said Hey THE TORNADOS: She's Out Of My Mind JONAH & THE WHALES: Hurt Me If You Will THE EYES: A Stitch In Time THE MOONLIGHTS: Nightwork THE VAMPIRES: Dock Of The Bay THE TRASHMEN: Piano For Sissy THE REBBELS: Flamenco THE CRY'N STRINGS: Monja THE GUYS: Ich bin froh, dass ich dich los bin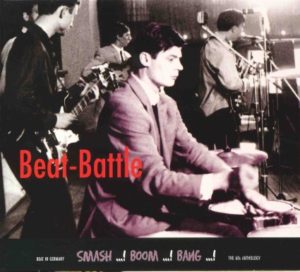 Beat-Battle
Die Beatfestivals in Frankfurt/M. und Kassel
CD Digipac mit 84-seitigem Booklet
BCD 16464 AR
Beat-Wettbewerb der Stadt Frankfurt:  THE RANGERS: These Boots Are Made For Walking THE ANOMS: But You Never Do It Babe THE SKINS: Till The End Of The Day THE SPADES: I'm Alive THE SPOTLIGHTS: Que Sera THE KINGBEATS: Keep On Running / My Generation THE RANGERS: Very Last Day THE ANOMS: I'm A Man THE SKINS: I Need You THE CHEATS: I Feel A Whole Lot Better THE ANOMS: Louie, Louie THE MANIACS: Things I Should Have Known
'Twist Battle Party' der Stadt Kassel:  THE RANGERS: Look Through Any Window THE DUCKS: Pretty Woman – Do Wah Diddy ORIGINAL BLUE MOONS: Exodus THE TRAVELLERS: And I Love Her THE ROLLING BEATS: Walking The Dog THE ORIGINAL BEATNIKS: You Really Got Me THE ROCKERS: A Crazy Haunted House THE GERMAN BLUE FLAMES: Rhythm And Blues And Joe THE CHIPMUNKS: Sticks And Stones THE BEATNIKS: Mary Ann DIE KETTELS: Gingerbread THE HURRICANS: The Rise And Fall Of Flingel Bunt THE ORIGINAL BLACK BEATS: Mean Woman Blues THE BEAT-BERRYS: Carol
Korrektur von Rainer Petry: "What They Gonna Do?" ist nicht von Lietz/Blecher sondern von Petry/Petry ↩