Natürlich hat mich SHAKIN' ALL OVER als Song nicht mehr losgelassen. Ich habe 7 CDs kompiliert, ausschließlich mit Cover Versionen. Ziel war es, die CDs durchgängig hörbar zu gestalten, was unterschiedliche, möglichst weit voneinander abweichende Interpretationen erforderlich machte. Es ist erstaunlich, welch eine musikalische Bandbreite man finden konnte.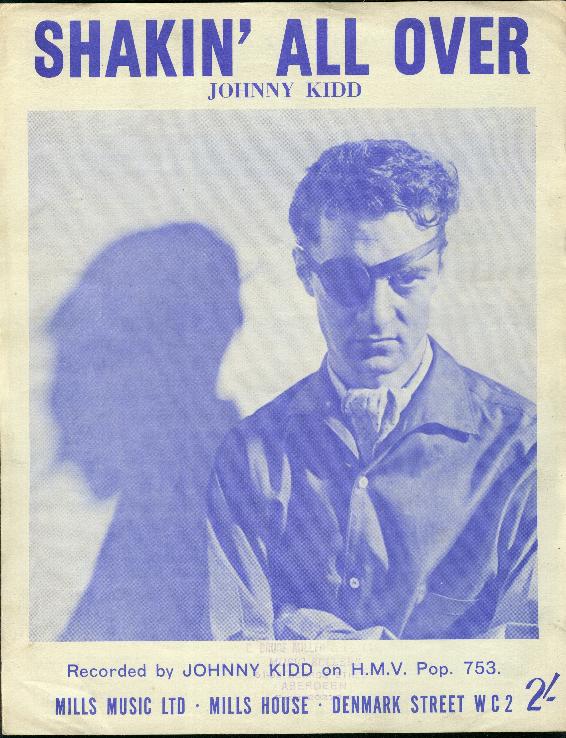 | | |
| --- | --- |
| | Anzeige Star-Club, Bielefeld |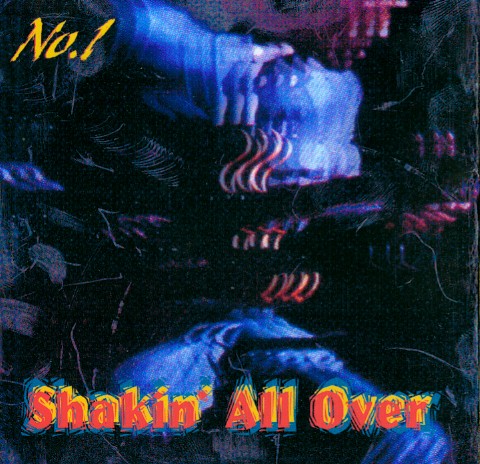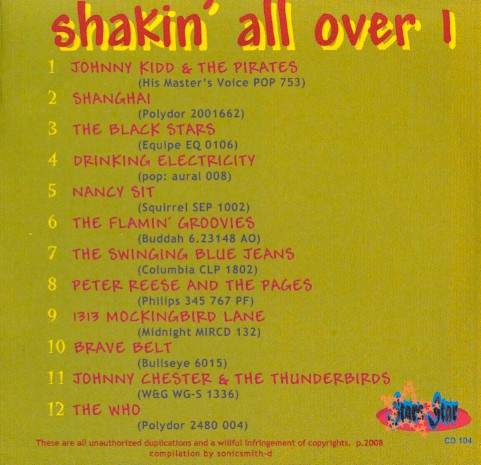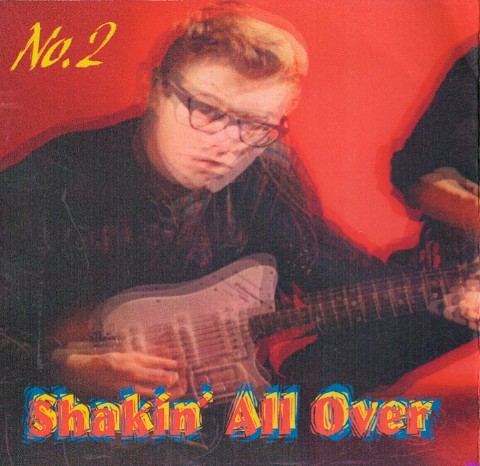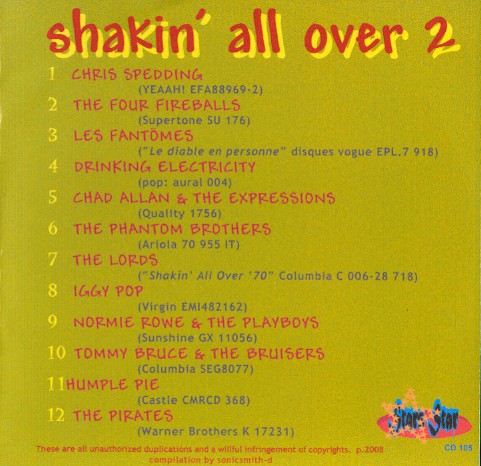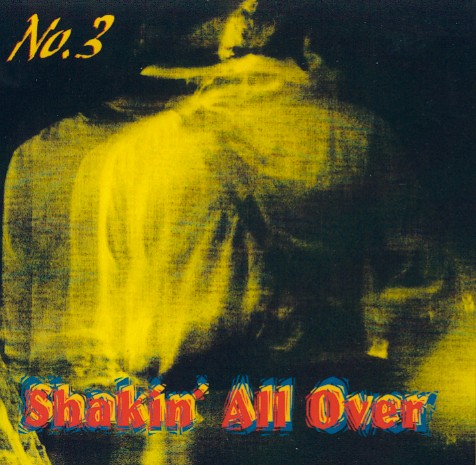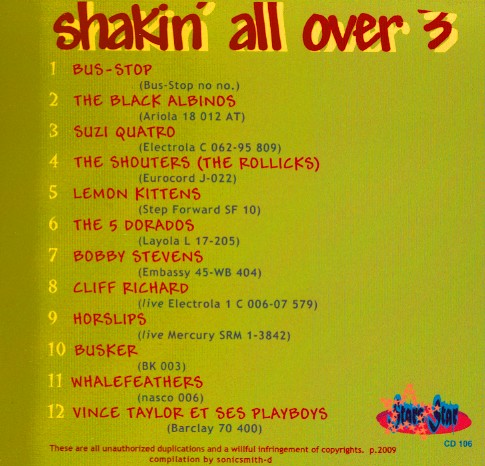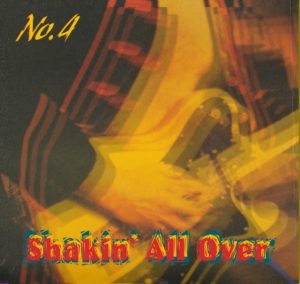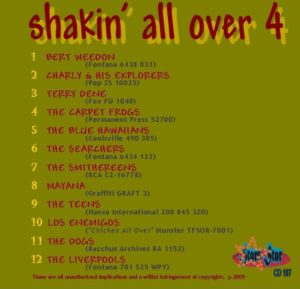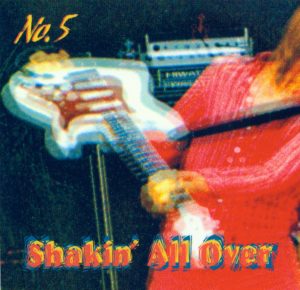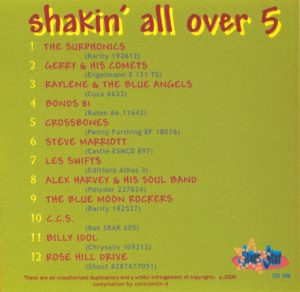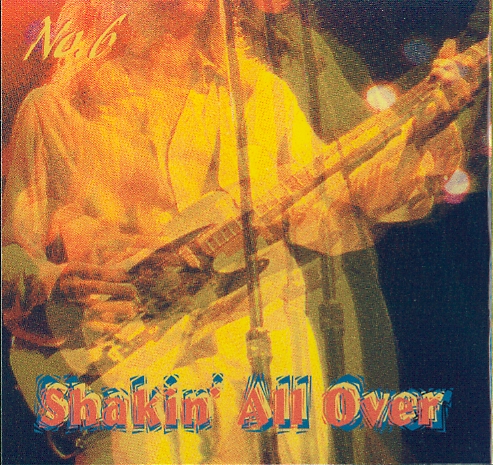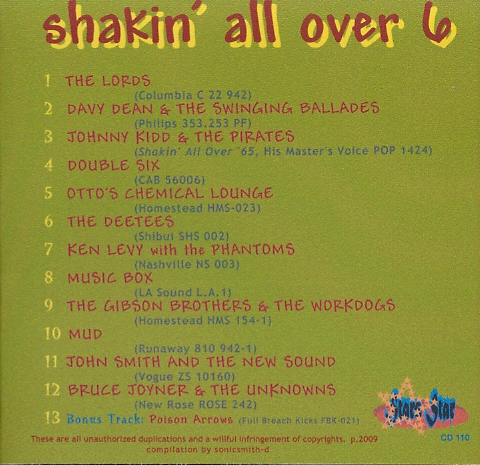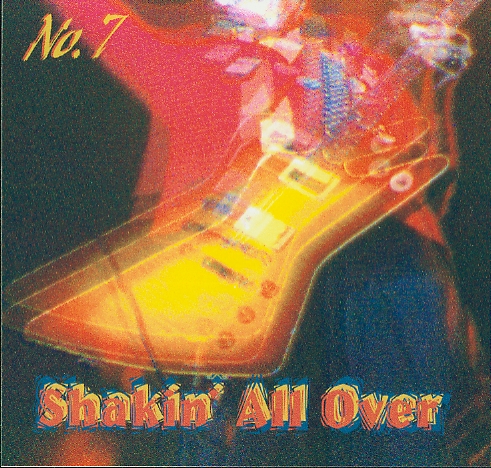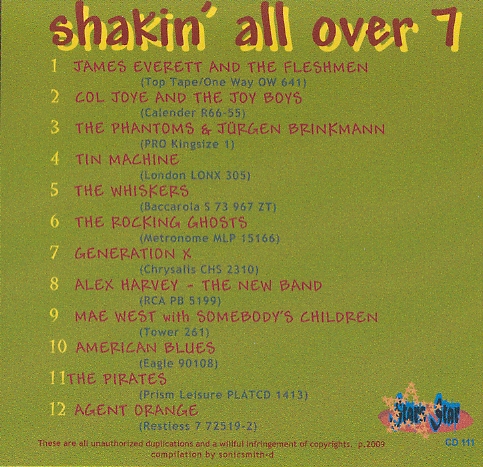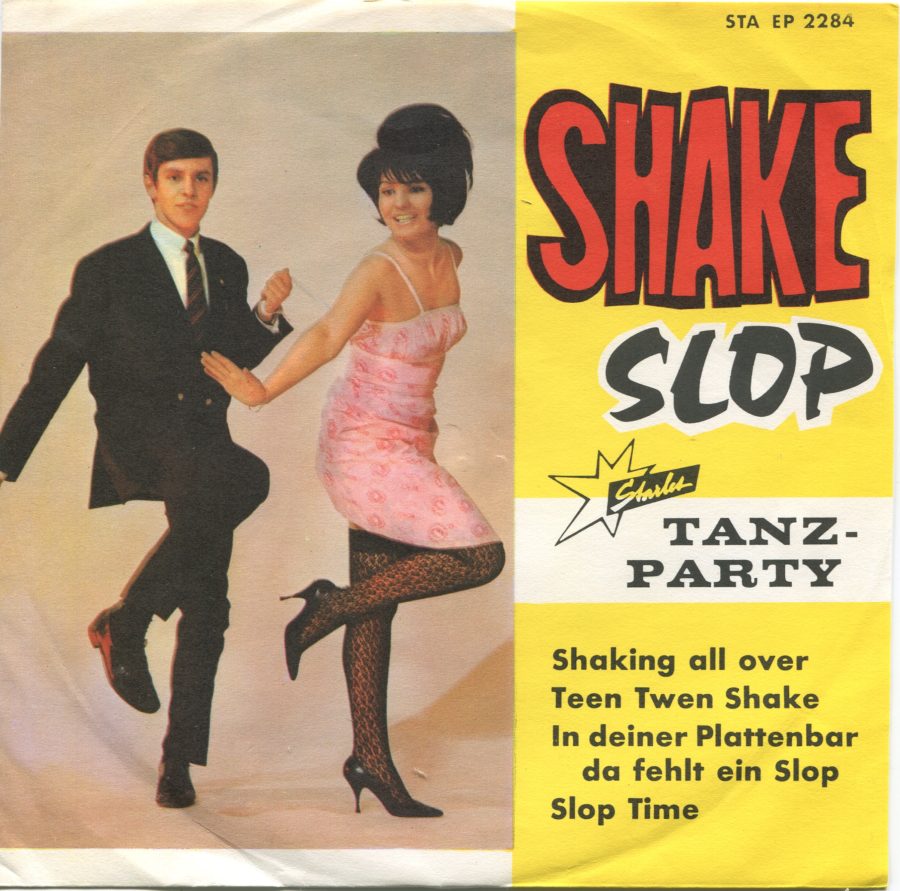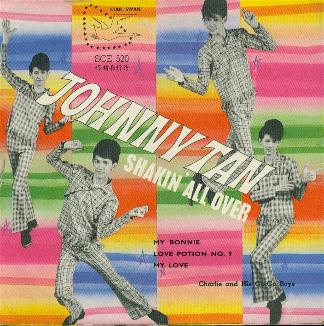 Bill Kennedy wrote: "Thanks for including our version "Wild Bill Kennedy and the Twiliters" on your future comp CD.
You should know however that this recording, as far as I know, was the first American recording of Johnny Kidd's hit. It was recorded live. You can read the history of the recording and the Twilighters biography on http://www.twiliters.com/.
Thanks, Bill Kennedy
PS: I spent three years in Germany in the Air Force near Würzburg. Have fond memories.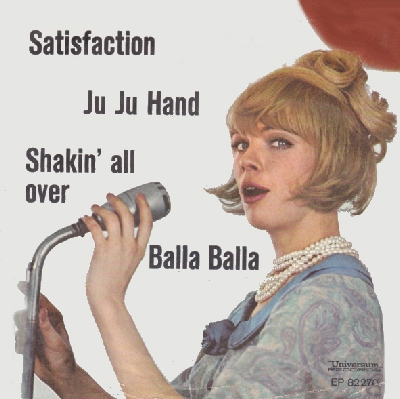 Folgende weitere Versionen sind mir bekannt, aber noch nicht von mir kompiliert.
ADAM ANT (Arcade ARC3100002)

A-GO-GO (Art Sea Records 3060, 1968)

ALVIN STARDUST (Gale GALE 1)

AMERICAN BLUES (unreleased demo tape)

ATLANTIS EGYÜTTES (Qualiton EP 7309, 1965)

AUNT SALLY (Green Light 0010, 1970)

BACHMAN-TURNER OVERDRIVE (Curb D2-776553)

BAND OF OUTSIDERS (Spring Sping 9, 2012)

BERNIE WOODS & THE FOREST FIRES (Spin 9808)

BIG PROBLEM ROCKERS (Rarity CD 192569)

BIM SKALA BIM (PIP BS 20282).

BLUE MOON ROCKERS (Rarity CD 192527).

BOB BROZMAN (?)

BOOM BOOM KID (Ugly Records, 2020)

BRIAN BAULE (Justine C-073, 1988)

BURT BLANCA (President NAT 1649)

BURT BLANCA (Rarity CD 192535)

CARLOS & THE PLAYBOYS (NIT 005)

CELIBATE RIFLES (?)

CEM KARACA VE APASLAR (Sayan FS 127, 1967)

CHEAP TRICK (Crownrecord Records CRCS-1013/Lolita no. 15)

CLIFF EDMONDS feat. ROCKIN' HELLFIRE ( Rebel Music RM 7010, 2017)

DAVE STEWART & BARBARA GASKIN ("Green & Blue")

DAVID BOWIE TIN MACHINE (London LONX 305)

DEADBEAT DELUXE (?)

DEE DEE RAMONE ("Greatest & Latest" EMI)

DRAFI DEUTSCHER (Medley Decca BLK 16 304-P)

LES FANTÔMES Le doable en personne (Vogue EPL 7912)

EILEEN JEWELL (Signature Sounds Recordings SGTR 2021)

GARY SHARKEY (Smash Disco SS 8893)

GENE ROCKWELL & THE FALCONS (?)

GREASE LIGHTNING (Lazy Eye Records, 1983)

GREEN DAY (?)

HASSE WALLI (HCD-04)

HEIDI MORTENSON (NOS02, 2011)

HELLO (Bell Records 263 1976)

HERBERT KNEBEL und sein AFFENTHEATER (Überall am schlottern)

HORSELIPS  (Mercury MK-147)

HOT VULCAN STOMPERS (Cab 56003)

JAD FAIR & PHONO-COMB (Shake SALD 226)

JAMES WHILD LEA ("Therapy" Double CD 2010)

JENNY WOLFE & THE PACK (Steady Boy)

JOHN ENTWISTLE BAND (Eastworld EWO014CD)

JOHNNY PANIC AND THE LOST WEEKEND (?)

JOHNNY TAN (Star Swan SCE 520)

K.A.D. (Rhythm Under Rod) (Shooting Star 7, 1983)

KALEVALA (?)

KATHY VINCENT (Buzzin' Records BUBE 5, 1986)

LARRY & THE HAND JIVE (Divolo DI 9602-2)

LINDBERGH BLUES ( vinlindbdruide/1, 2013)

LITTLE TONY SUPERSTAR (ri-fi rpo/st 72028 197)

LOS LONE STAR "A estoy llorando" (?)

LOS OVNIS "Sacundiendo todo" (Peerless SA 453)

LOS RETARDOS (2006)

MAD CREW ("We Are The Mad Crew" CD)

MALU "Sono Innocente" (ARC AN-4049)

MICK GREEN (Thunderbolt THBM 004, 1986)

MONOMEN ("Took That Thing" EP Sympathy For The Record Industry)

MUSIC BOX (L.A. Sound Records LA1, 1987)

NABOENS ROCKEBAND (Studentersamfundet Plateselskap NREP 001, 1973)

OPTIMO ("Sleep Walk" CD)

PATRINA (Cortersion TKE 2234, 1967)

PATTO (Breakdown 304, 2009)

PLAIN LOCO (Texas Music TCMD004, 2003)

POISON ARROWS (Full Breach Kids FBK 021, 2009)

RABBIT ("Too Much Rock'n'Roll" CBS?)

RADIACS (Anagram PID 150084)

RADIO STARS (Radiant Future USDS1173/RFVP010CD)

RANDY BACHMAN (Ranbach R 620176)

RAY BROWN AND THE WHISPERS (Leedon LX-11.036, 1965)

RAY COLUMBUS & THE INVADERS (Zodiac ZLP 1020)

REMU (FAzer 4509.99021-2, 1995)

RICKY AND THE SPITFIRES (Rap SRLP-C-13)

RICKY VALANCE (Pegasus 3531)

ROBIN LANE & THE CHARTBUSTERS (Warner Bros. MINI 3495).

ROCKIN' JOJO & HIS RED ANGELS (Rarity CD 192478)

ROLAND STORM (Roland V2)

ROSETTA WEST (Alive ALV 57)

SANDRA FLETCHER & THE REFLECTIONS (AUS East EASC-39, 1969)

SCOTT FREE (?)

SHADOWY MEN ON A SHADOWY PLANET (Cargo CARCD14)

SHOTGUN (Raucous RAUCD 041)

SOUND LTD. SET (Steele FS 1108, 1967)


CHRIS SPEDDING (Fan Club FC 081 CD, 1991)

SPIKE (On The Hil records OHEP 003, 2003)

STEPHEN DALE PETIT (LMS Mobile Recording Studio LMS 003, 2012)




TERRY CLAYTON-HALL (Dee Jay Productions  DJD-014)

TERRY DENE & THE DENE-ACES ()

TEX ROBERG (Arnies Shack 029)

THE ASTRO-NOTES (Diamond LP-1027)

THE BEAT KINGS (?)

THE BIG PROBLEM ROCKERS (Rarity 192569)

THE BLIND SONS (Wild Valley Records TBSWVR3/1, 2016)

THE BLIZZARDS FOUR (Meilton ST 1)

THE BLUE MOON ROCKERS (Rarity CD 192527)

THE BOYZ (Lady PDI 9036, 1987)

THE BRITISH INVASION ALL STARS (BICD 0212)

THE BUZZTONES (Rocco)

THE CRAZY TEDS (Time Bomb BOMBCD-84)

THE DAMNED (Emporio EMPRCD 592)

THE DAVE HOWARD SINGERS Goodnight Karl Malden 12″ (Hallelujah HAL02-T)

THE DOWNBEATS (Pyral, 1964)

THE DYNAMIC HEPNOTICS (Mambo 501, 1980)

THE EYES (Acme Lion ACLN1008CD)

THE FAROUTS (Further Out 001, 2019)

THE JET BLACK BERRIES (Enigma 1117-1)

THE LEGENDS (Arf! Arf! 086/87)

THE LOLLIPOPS (Karusell KSEP 3313)

THE LORDS (Disky ALI903684)

THE MISSING LINKS (Corduroy CORD 050)

THE MONO MEN (Sympathy For The Record Industry SFTRI 164)

THE PIRATES (2006 CD Platinum)

THE PIRATES (Thunderbolt CDTB 143)

THE POLARS (Iron Curtain 109-2)

THE PRETTY THINGS (Chiswick wik24)

THE RACKETEERS (?)

THE RECOVERIES (?)

THE RED CATS (Starlet Schlager Serie STA EP 2297,1966)

THE REFOUNDERS (RefRec05, 2005)

THE ROCKATS (1983 LP)

THE SHAKIN'S avec NICK KILLER (Chasseur De Sons 106 AG)

THE SHARING PATROL (Sam 18, 1987)

THE SHATTERS (Chaos CACD 8035-3, 1993)

THE SHUTTERS (Star-Club 158016 STL)

THE SNAKESKIN BOOTS (?)

THE STARLET STUDIO BAND (Starlet EP 2284)

THE SURF RATS (Rarity 192661)

THE SURFARIS (Decca Records 4683)

THE TEXAS GENTLEMEN (New West NW5213, 2017)

THE TOP CATS (Top Cats Records 2)

THE TRITONS (Part 339.002)

THE TWILITERS (Empire E-4)


THE UPHOLSTERERS (Cass Records MAMA 017, 2004)

THE VIBRATORS (Anarchy)

THE VINCENTS (Chü CHU-005, 1992)

THEO'S FRIED CHICKENSTORE (Chickenrecords CR13-001, 2013)TIN MACHINE (Victory VICP 15012, 1991)

TOMMY AND THE HOT ROCKS (Wildfire WRT003, 1978)

TONY RONDO (RCA 3638, 1975)

TRIPLE HEX (Thigh High Records THR 003, 2008)

VAN MORRISON (Polydor 7741591)

VILDE HILDING BAND (VHB 1, 1993)

WANDA JACKSON (Third Man TMR 023)

("WILD" BILL KENNEDY &) THE TWILITERS (Empire E-4)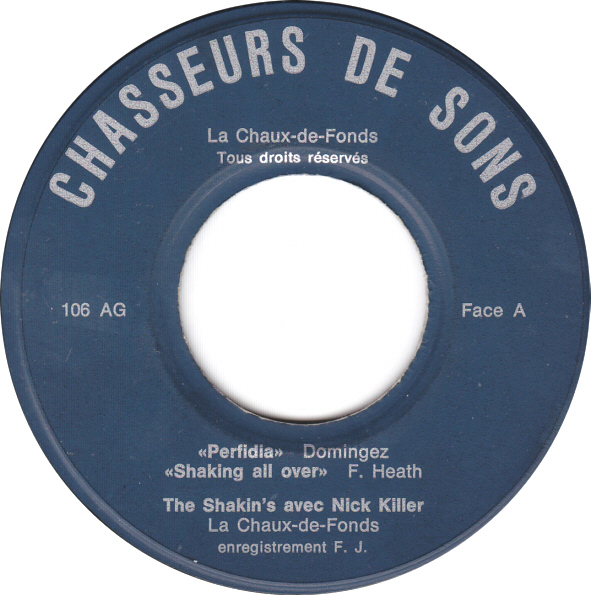 Live and unreleased
THE TEAM BEATS (rec. 1966)