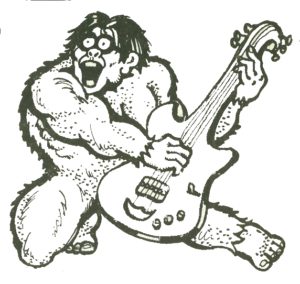 By the end of 1976 I was living in Mülheim/R. and it was the year when I became member of "1. Deutscher Ringtausch", a club of record collectors. I was like member #87. Alfred Hebing had been a member for some time and as he lived close by (in Essen), we struck up a friendship1. As our (then) girlfriends (now wives – still) also got along fine, things ran smoothly, and soon my friend Alfred and I were offered the opportunity to make a music magazine for the club. Clumsily we did Plattenfakten I and II (basically consisting of discographical data – II being the first issued and illustrated Star-Club Records discography – pioneer work then!). We had delivered issue III (the contents long forgotten), when we read in the Club magazine Chatterbox that it would be sold, not given away for free any longer. We proposed we would have it printed professionally, but that was denied. 2 So we branched out with the idea to become rich ourselves, and that's how Gorilla Beat started: in English, as our approach was anglophile anyway – and we wanted to conquer the world. Alfred liked the name of an American music magazine, Tiger Beat, and that's where the name of our mag derived from. As our English was far from perfect, this special lingo was soon branded Gorilla English.  Plattenfakten III was never issued.

The Gorilla Beat period was a period in my life I wouldn't miss for all the money that Lehman Brothers wasted. We were young, we were loaded with enthusiasm up to our collar-bones, we had energy galore, we got something rolling, and we had a purpose in life, which meant running about in gorilla costumes, carrying a live size gorilla doll around (even having it at the steering wheel of my Lada car), getting legless at record fairs, being prosecuted for being too loud-mouthed, going to London record fairs making good money on German T.Rex picture sleeve singles and meeting interesting people from all around the world. Some of them remained friends for a long time.
Gorilla Beat was a record collectors magazine dedicated to 60s music in the first place, though from the very beginning I was able to sneak in a New Wave / Punk section. It was A5-sized as long as I was on board. A nice format if you want to save on postage.
In order to get Gorilla Beat started, we got up at three in the night to be the first at the car boot sales at four in the morning buying those records for little money which we would later sell at record fairs at collectors' prices. We put the profits into the piggy bank until the first issue was safe.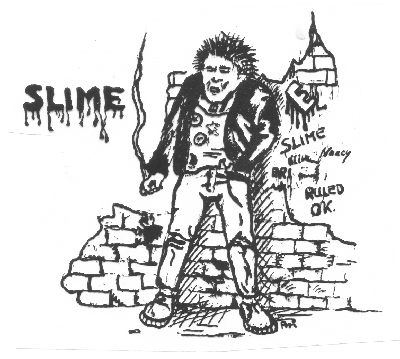 At the time I was at university and regularly worked at an advertising company called Graphia in Hagen through which we were connected with a printer's shop (Druckerei Hiby) which we could afford. Herr Hiby was a strange guy, member of some kind of very conservative religious sect and he had a son who was continuously drinking Coca-Cola. Printing a thousand copies of an A5-sized-60-page magazine was almost beyond his scope and when one of the features included a photo of Destroy All Monsters' Niagara showing considerable flesh, he fired us for indecency.
Alfred then came up with Druckerei Hitzegrad in Dortmund who would support our (well, my) ventures until 1998 and Hitzegrad would always print our stuff at very decent costs. If Mr Hitzegrad Snr. had not taken a liking to us, we would not have been able to do what we did. Gorilla Beat always sold enough copies to finance the next issue. Almost all of the day to day costs like petrol, paper, type writer ribbons, photocopies etc. were paid for by ourselves.
---
When debuting with Gorilla Beat No.1 at the Hannover Record Fair in 1978, I had graced our table with a large banner saying "Gorilla Beat – Deutschlands Oldies Magazine No.1". Also – when he visited our stand – I welcomed the head of 1. deutscher Ringtausch record club, Frank Goldmann, "Oh, Herr Silbermann". I still remember Detlef Voge, who had the stall to our right, looking sceptically at me. He knew I had started a war. I didn't.
Goldmann somehow was a descendent of the Goldmann publishers family. It is needless to say, that I regarded Goldmann as a complete asshole and dumbhead who was looking for some place where he would be acknowledged. And I can be a pretty arrogant asshole, too. Pretty soon afterwards we got a letter from Goldmann's lawyer accusing us of false allegation: Whereas we interpreted "No.1" in regards to quality, Goldmann regarded it in regards to time. He was first, we were second, our lawyer successfully beat down the charge for damages by 50%, but nevertheless we paid.
I later paid again – when Mr. Goldmann had nazi era picture discs replicated: a series of discs "Was die SA so singt" or something like that. I was furious, and I addressed a letter to him "An die Nazivertriebsgesellschaft Frank Goldmann". Another response from his lawyer, and my lawyer soon found out that as long as he sold the discs in the USA only – which he did (I had seen his ad in Goldmine magazine, that's how I came to know about these records) – it was not illegal by German law!! But me openly using the expression "Nazivertriebsgesellschaft" on the letter with the mailman able to see it, was fulfilling an act of libel. My lawyer was doing his utmost of freeing me of the charges – as he had (as far as I remember) lost a grandfather or his father in a nazi concentration camp and was personally horrified by Goldmann's unscrupulousness. My lawyer could not beat down the charges. I was a student then, did not have a substantial monetary background, so I gave in. Today I would go through all official channels.
Okay, back to nicer things: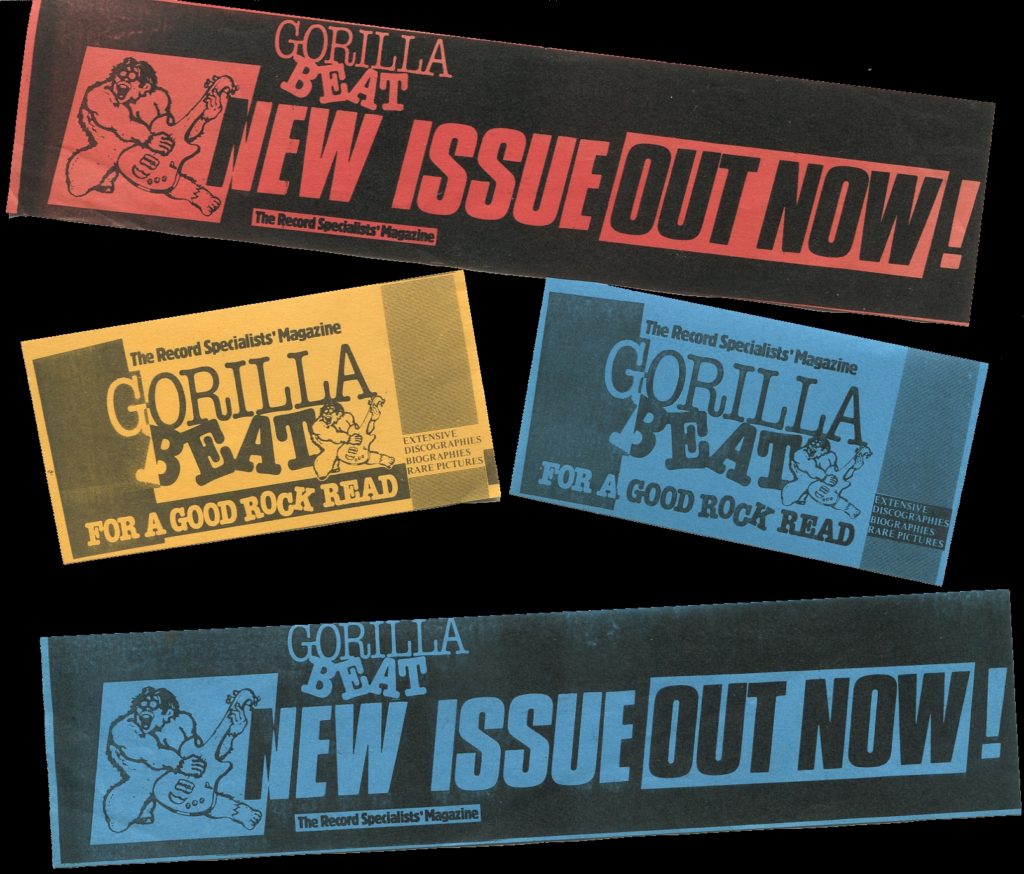 From the start, Ari Plikat supplied us with great cartoons. His drawing graced the cover of #1 which I thoroughly ruined with my incompetent lettering. He also designed the Gorilla with the guitar. Wonderful! We still write each other postcards these days and make Christmas presents. Peter Nicolas, who was working as a reproduction photographer, sneaked in a couple of our pictures in his weekly work thus saving us reproduction photography costs. Peter, you were a good guy, and you probably are today.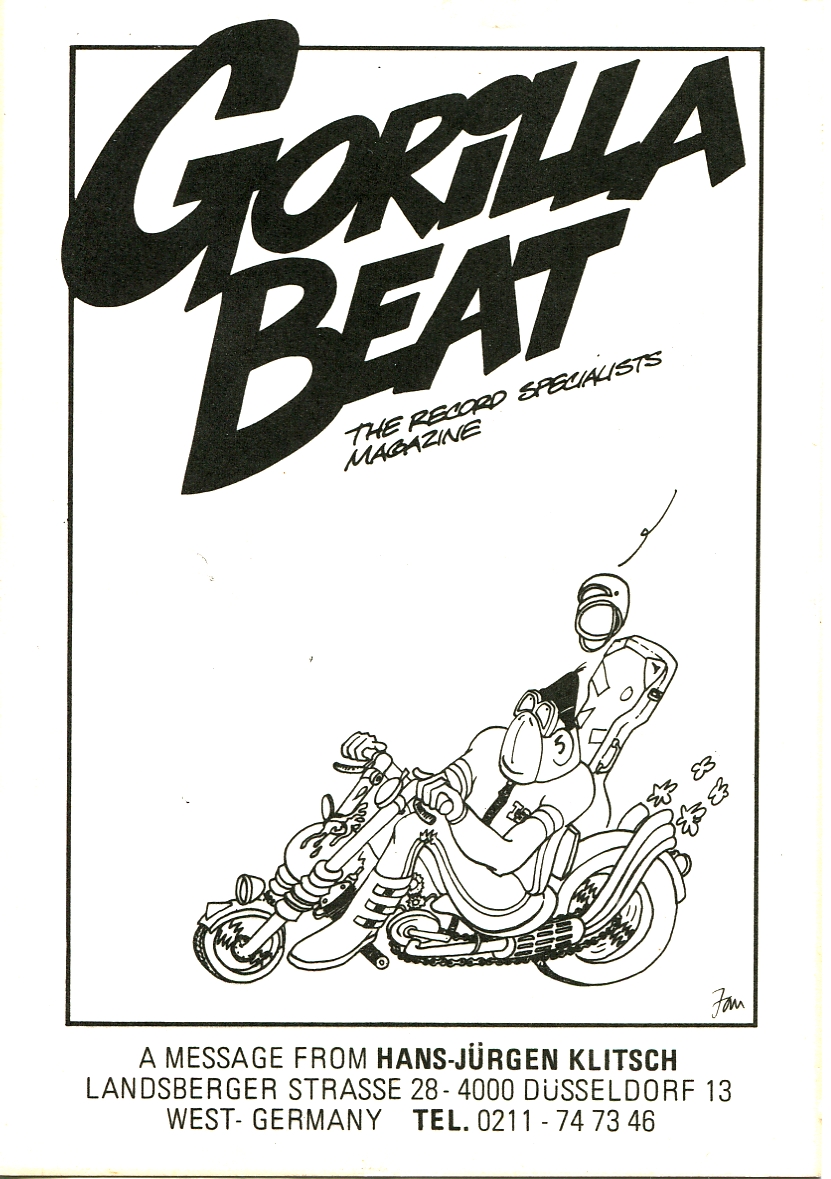 There was a letter in the mail some day, in which Gerard Davelaar, Dutch graphic designer, music connoisseur and collector, offered his services. When he sent a sample of how Gorilla Beat could look like,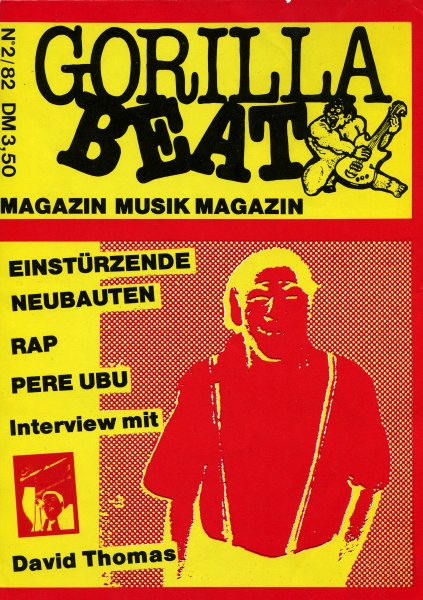 we know we'd struck on a goldmine. From #8 onwards Gerard supplied us with professional artwork for the cover. He would also have postcards, stickers and promotion posters printed for us – all without getting paid for it. He talked Dutch comic artist Jan de Boer into drawing a cover for us (#16, and later for h'artbeat). Gerard really gave Gorilla Beat a boost, and just for the love of it. (A wonderful guy, we are still friends today and visit each other regularly.)
Soon we also had diverse record collectors contributing to Gorilla Beat: Pontus von Tell (Sweden), John Wagstaff (Germany), Rainer Moddemann (Germany), Greg Provost (of the Chesterfield Kings, USA), Roeland Bajema (NL)…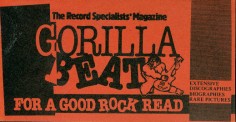 #12 had been published. I had struck up a friendship with Kim Kane of The Slickee Boys. Alfred and I wanted to leave another mark on the fanzine circuit. Why not include a disc with our magazine? The Slickee boys would supply us with a track recorded live at the University of Maryland. "A Long Way To Go". The sound was brilliant. The song was great too.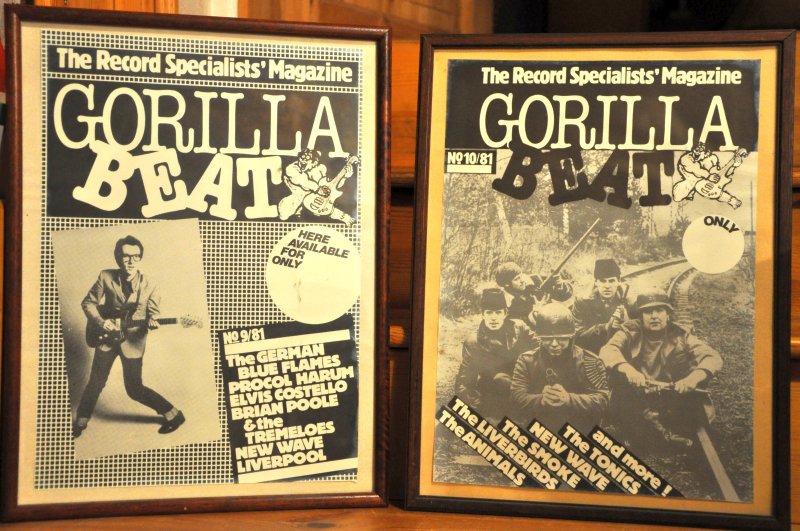 Our mag was only A5 (14,8cm wide) and a 7" (17cm) disc was too big to be enclosed. We needed a 6" disc, and in order to keep it from breaking when mailed with the magazine, it ought to be a flexi disc.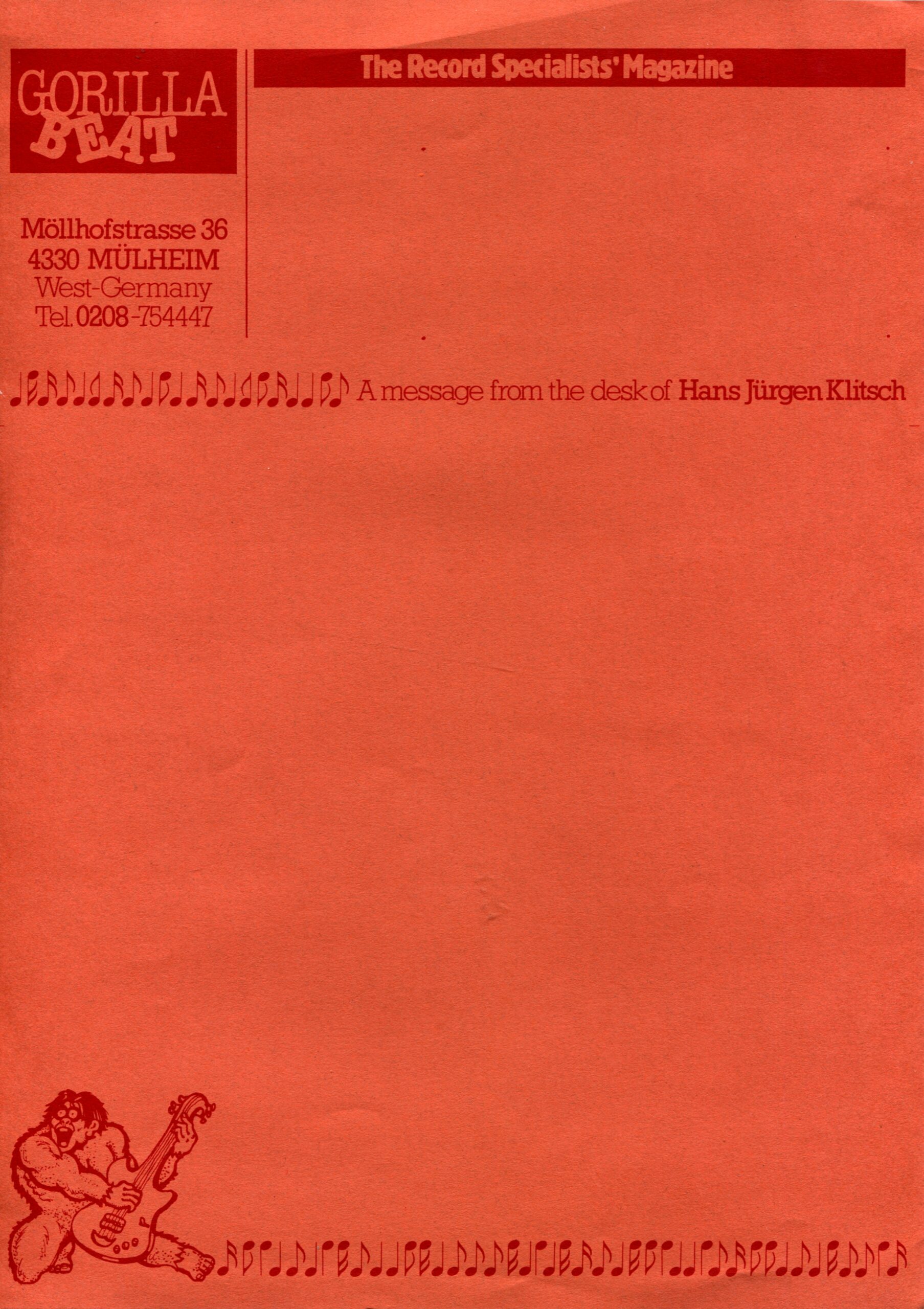 We negotiated a deal with Sonopresse in Rotterdam, the Netherlands. Okay, affordable. We mailed the tape to Rotterdam, and a couple of weeks later we were informed that we could pick up our 1.000 copies of "A Long Way To Go" at the port of Duisburg-Ruhrort. It had virtually been shipped. By cargo ship!! And the box, the 1.000 copies had been put in, was flimsy, not really up to river navigation standards, and thus damaged. On picking the package up at Duisburg-Ruhrort, the flexi discs already came falling out. The silver-print on the flexi discs had not been dry when they were thrown into the cardboard box, so most of the copies were smeared. When I put the disc on my turntable at home, I was disgusted. Such a muffled sound! Well, we had send the tape by mail and it turned out that the tape had obviously been x-rayed at the customs and consequently been ruined. We would know better today. Here it is nevertheless.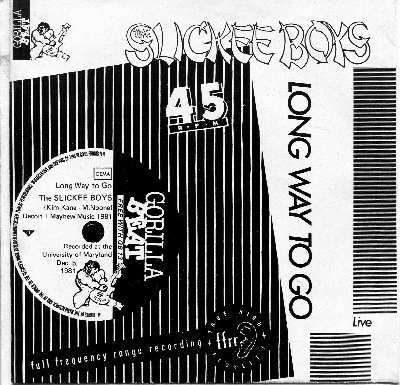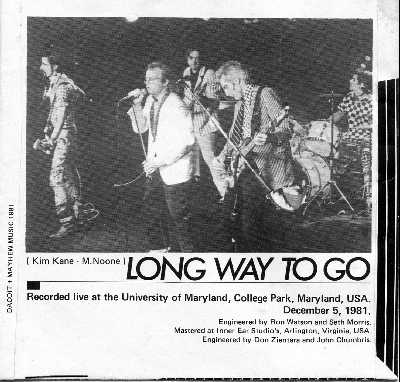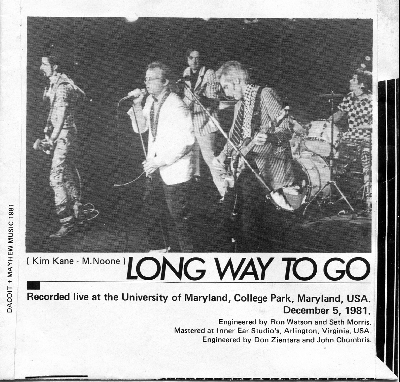 Gerard, who had done the flexi disc's label, also supplied us with a sleeve for it, so our subscribers each got a unique 6 1/4 inch "glue-it-yourself" picture sleeve. It was just a sheet of paper which had to be cut out along doted lines, then folded at the edges and glued together. I've nover come across another "glue-it-yourself" record sleeve in the world of Rock 'n' Roll. We were innovators, no doubt!
(I must have an uncut and unglued version somewhere. When I find it, I'll upload it.)
I have now come across not only one, but at least a dozen copies. Here it is, in all its glory: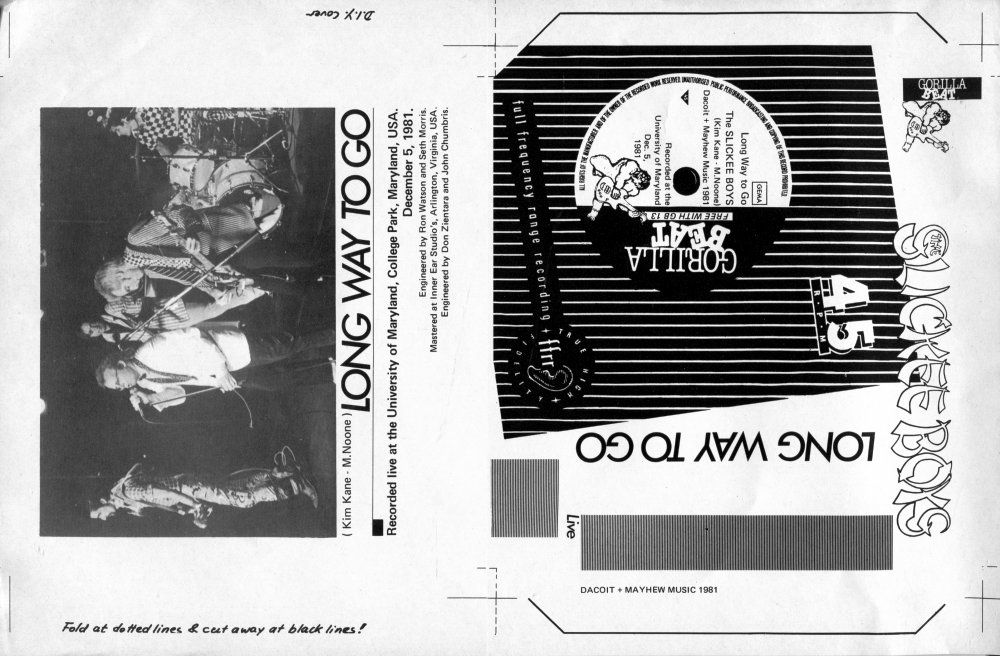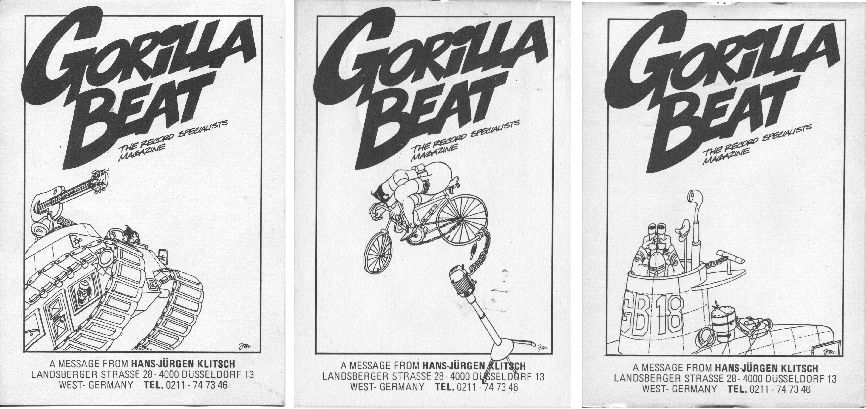 In 1984 Alfred and I parted company. Alfred carried on with Gorilla Beat for only another 5 issues. I started hartbeat! (first billed as h'artbeat).

The contents of GORILLA BEAT as far as I was involved: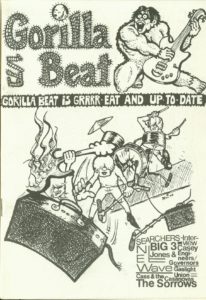 #1: The Searchers, The Big Three, Casey Jones & The Governors, Gaslight Union, The Sorrows, New Wave records
Cover drawing by Ari Plikat, the rest was my unqualified work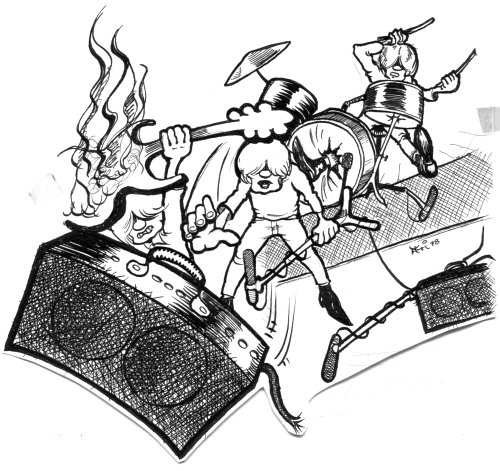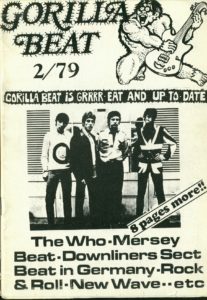 #2: The Who, Downliners Sect, Beat in Germany, The Mojos, Faron's Flamingos, New Wave records
Cover amateurishly done by Hans-Jürgen Klitsch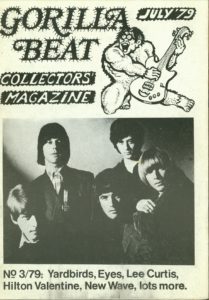 #3: The Yardbirds, The Eyes, Lee Curtis & The All-Stars, Ariola Liverpool Beat records, Hilton Valentine, New Wave records
Cover (not much better) by Hans-Jürgen Klitsch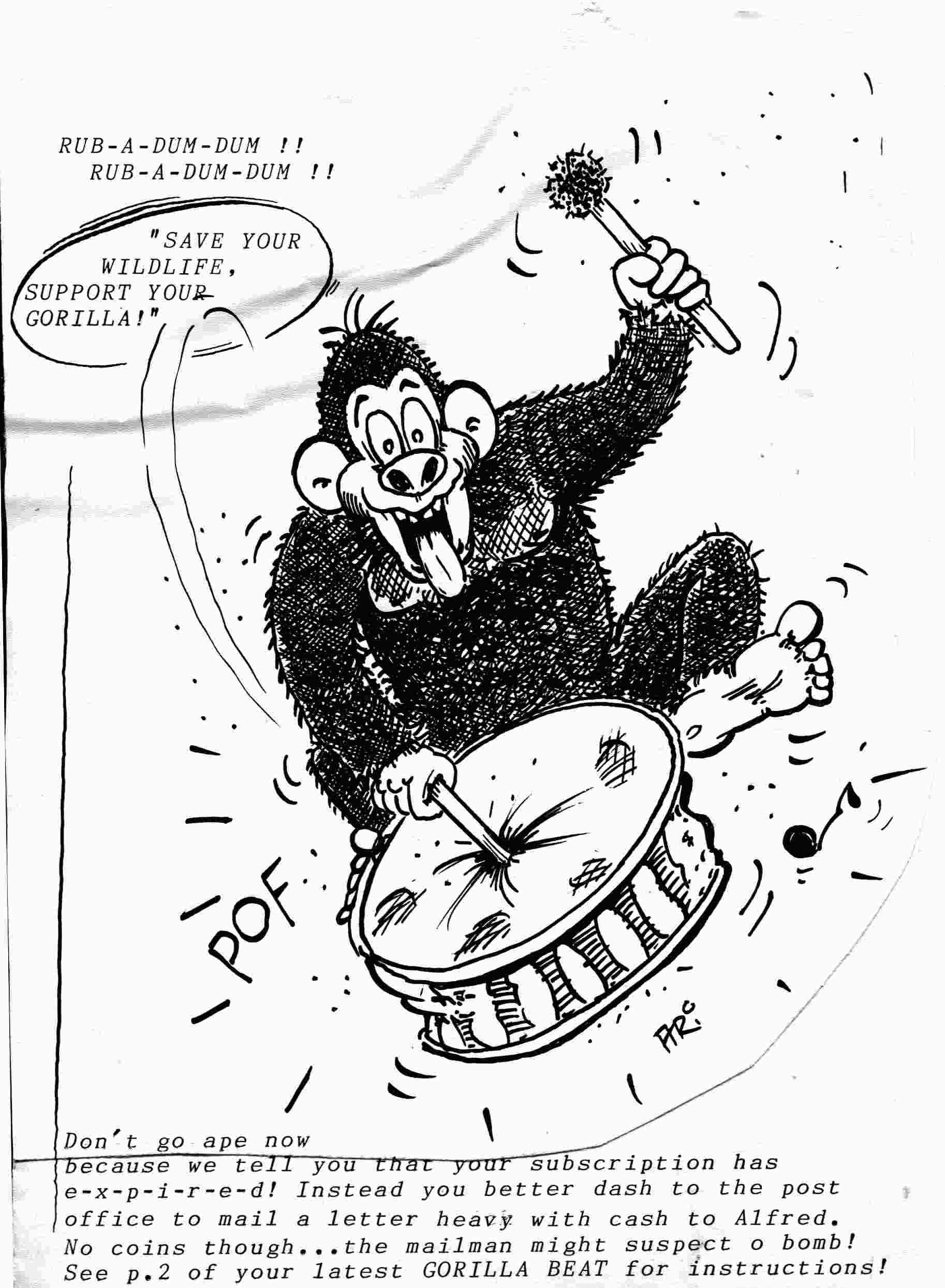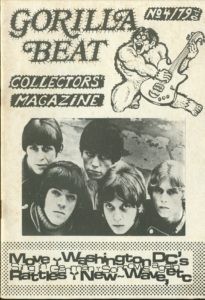 #4: The Move, Washington DC's, The Rattles, British artists sing in German, New Wave records
Cover (poorly done) by Hans-Jürgen Klitsch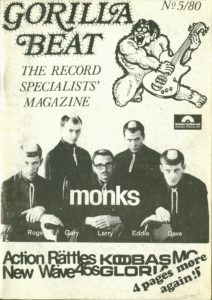 #5: The Rattles, The Monks, The Action, The Koobas, Gloria cover versions, 70s Newcastle-on-Tyne scene, pre-Move bands, New Wave records
Cover (again) by Hans-Jürgen Klitsch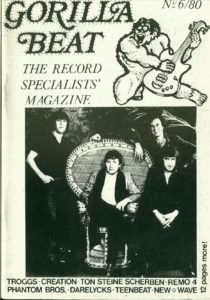 #6: The Troggs, The Creation, Ton Steine Scherben, The Remo 4, The Phantom Brothers, The Darelycks, New Wave records
Cover by Hans-Jürgen Klitsch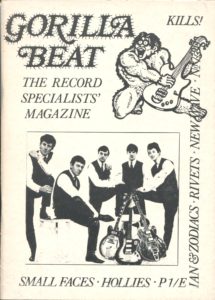 #7: The Hollies, The Small Faces, Ian & The Zodiacs, The Rivets, P1/E, New Wave records
Cover (again poorly done) by Hans-Jürgen Klitsch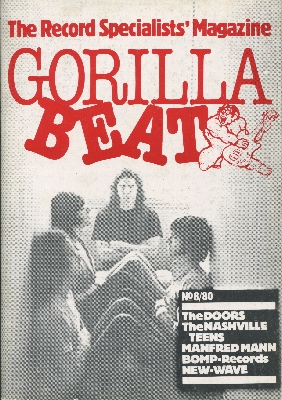 #8: The Doors, The Nashville Teens, Manfred Mann, Bomp Records, New Wave records
Cover by Gerard Davelaar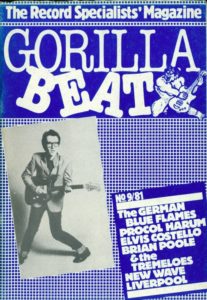 #9: The German Blue Flames, Procol Harum, Elvis Costello, Brian Poole & The Tremeloes, Liverpool New Wave scene, The Roadrunners, New Wave records
Cover by Gerard Davelaar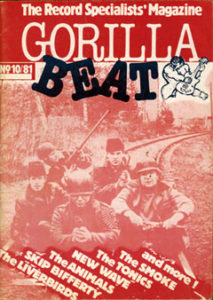 No copy in my house, but Gerard Davelaar sent me a jpg. The cover was not green as I remembered!
#10: The Animals, The Smoke, The Liverbrds, The Tonics, Skip Bifferty pt.1, New Wave records
Cover by Gerard Davelaar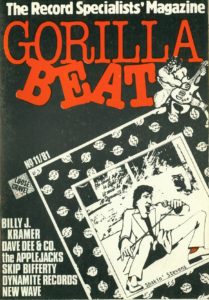 #11: Dave Dee Dozy Beaky Mick & Tich, Billy J. Kramer & The Dakotas, Dynamite Records, Skip Bifferty pt.2, The Animals, The Applejacks, Elvis Costello, New Wave records
Cover by Gerard Davelaar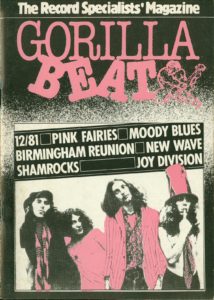 #12: The Pink Fairies, The Moody Blues, The Shamrocks, Joy Division, Terry Brooks, The Birmingham 60s Beat scene, Polydor International Records, New Wave records
Cover by Gerard Davelaar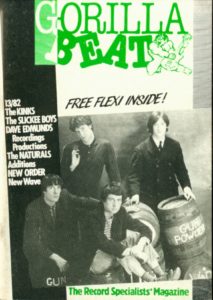 #13: The Kinks, The Slickee Boys, Dave Edmunds, The Naturals, New Order, New Wave records, plus 6″ flexi disc: THE SLICKEE BOYS "Long Way To Go"
Cover by Gerard Davelaar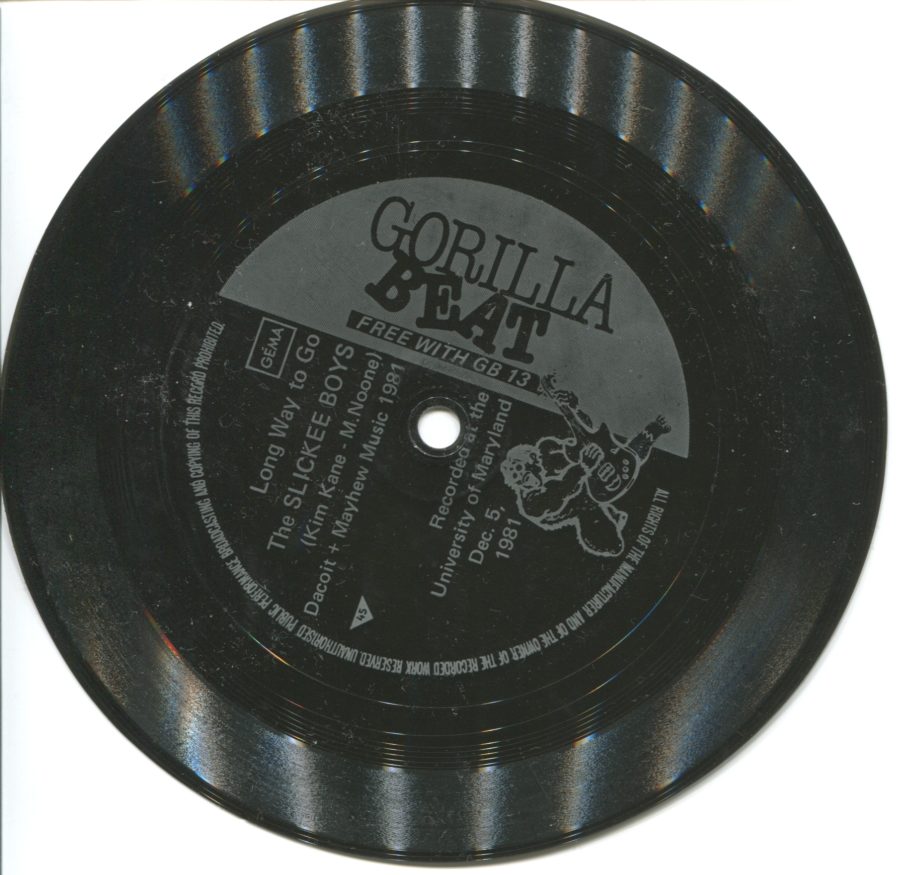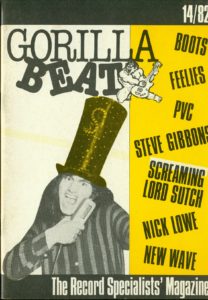 #14: Screaming Lord Sutch, Steve Gibbons, The Boots, The Feelies, Nick Lowe, PVC, New Wave records
Cover by Gerard Davelaar
#15: The Crazy World Of Arthur Brown, Tomorrow, Pink Floyd, The Misunderstood, Bitter Blood, The Vogue, The Chesterfield Kings, Psychedelia, The Creation, New Wave records
In my opinion the best issue of Gorilla Beat
Cover by Gerard Davelaar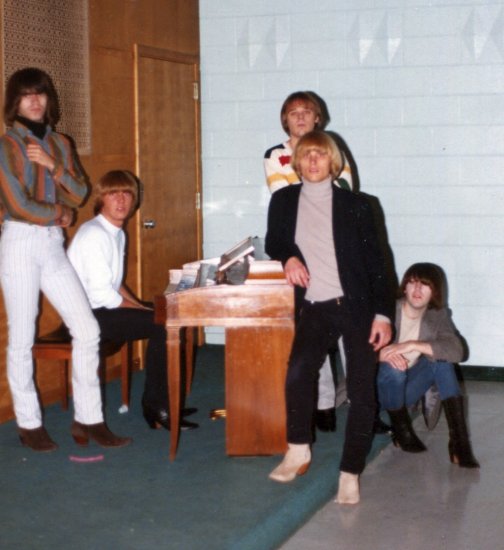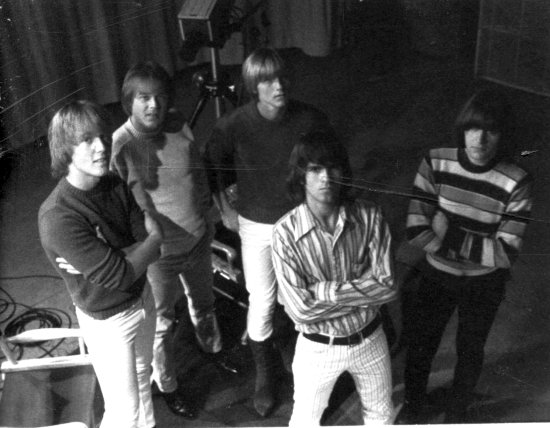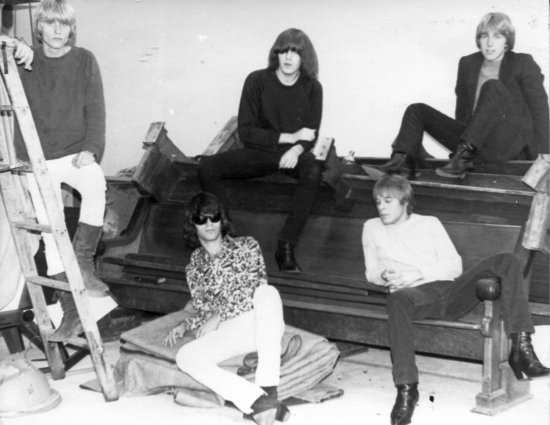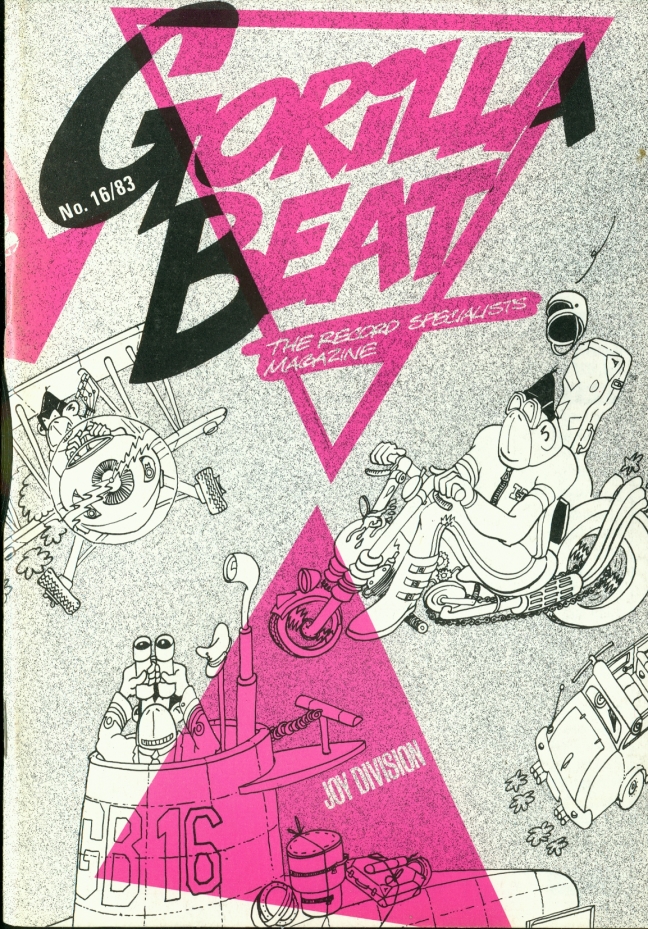 #16: Joy Division, John's Children, Jet, Radio Stars, The Angry Men, The Bonzo Dog Doo-Dah Band, New Wave records
Cartoons by Jan de Boer and cover art by Gerard Davelaar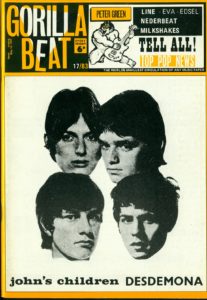 #17: John's Children, Jook, Andy Ellison, Nederbeat, The Milkshakes, Peter Green, 60s re-releases, New Wave records
Cover by Gerard Davelaar
And then the first two 45rpm-LPs (still favourites on my turntable these days) by The Nomads had been in the mail, and it was all over for me. There was a whole new world open to me, and I went my own way with hartbeat! and Alfred carried on for another 5 issues.